[ad_1]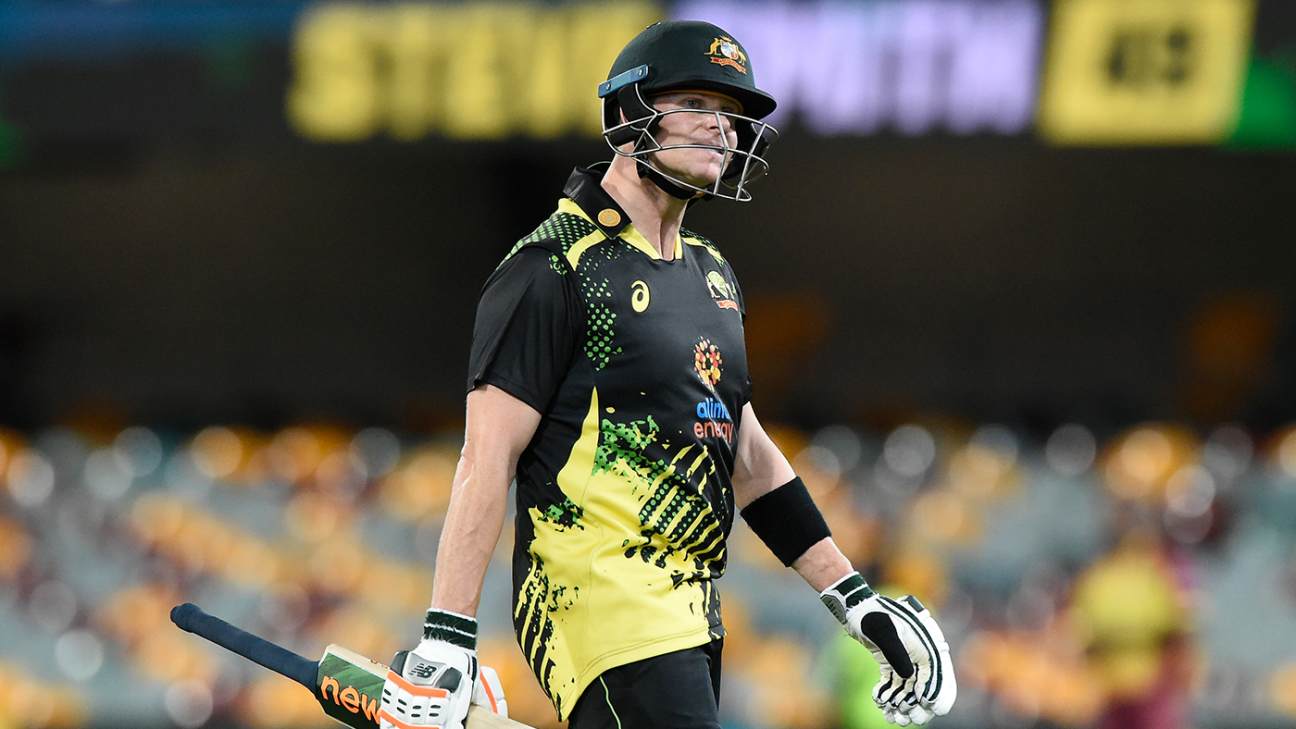 Steven Smith
knows he needs to show intent now that he's been shed of the 'Mr Fix it' role.
"Just having that more attacking mindset rather than when I was playing that kind of role," Smith said on Thursday. "I was probably in a more defensive frame of mind and almost just trying to get through without taking the game on as much."
The problem is, he's not showing it. And he's running out of time ahead of the World Cup as
Tim David
once again showed why he simply cannot be left out of Australia's best side with a brilliant 42 off 20 in Australia's victory over West Indies at the Gabba that sealed the series 2-0.
Friday was the perfect chance for Smith. Back in the team in the absence of the rested Mitchell Marsh, he walked out at No. 4 as Australia continued to tinker with their line-up.
But he started with four singles in nine balls. It wasn't just that he couldn't score. He scarcely played a shot in anger as he tried to find some feel on a tacky surface. In the meantime,
David Warner
fell for a scintillating 75 off 41 having watched four consecutive dot balls at the other end in the 11th over.
Eight balls later
Glenn Maxwell
was run out trying to pinch a single that arguably wasn't there to try and get back on strike as Smith continued to battle for timing.
Smith wasn't the only one to struggle.
Aaron Finch
made a torturous 15 off 19 with one boundary having shifted to No.3 after batting at No. 4 on Wednesday.
But Finch is the captain and looks likely to open in the World Cup unless an injury sees Cameron Green come into the squad.
For all of Finch's struggles over the last 12 months,
his strike-rate of 121.17
in that period looks electric compared to
Smith's 112.77
. Finch has reached 20 in more than half his innings in that time. Smith has done it in just a third of his.
Even in Smith's best innings, he has struggled to make up for sluggish starts.
In Pallekele
, against Sri Lanka, he was 15 off 17 before he hit his first boundary and finished with 37 not out from 27.
In Mohali
last month against India, Smith was 9 off 8 while Green was striking at 200 at the other end. Smith finished with 35 off 24, striking at 145.83 when the combined strike-rate of the two teams was well above 170.
Unlike David, Smith can't make up the gap with raw power and he freely admits it.
"I'm obviously not as strong and powerful as some of the other guys but some wickets entail just being smart and punching the ball and timing the ball really well as well," Smith said the day before the Gabba match.
But he hasn't been able to do that. Warner's innings was full of quality stroke play rather than raw power. He mixed crisp timing with superb running between the wickets. Smith at his best can do that. But he hasn't been able to strike fear in the opposition's bowlers in T20 cricket in the way he does in Test and 50-over cricket.
David's breathtaking hitting would have struck fear in Australia's World Cup opponents as it has done in franchise cricket the world over. Yannic Cariah and Obed McCoy felt the full force as David swatted three sixes with a combination of easy swings and brute strength.
While conventional thinking might see David's emergence as a threat to
Marcus Stoinis
, given David has occupied the No.6 spot in the order and shown exceptional skill and adaptability in playing that role, the reality is David and Stoinis are not like for like given David does not bowl. Australia can't carry four batters in their top six who don't bowl when Marsh's bowling fitness is still not guaranteed.
Stoinis is set to return against England
on Sunday in Perth and will be fit and needed to bowl.
Smith has now become vulnerable to David the Goliath. Australia's hierarchy had been confident Smith would come good in T20 cricket this year. Confident that the team's best problem-solver would solve his strike-rate problem with more repetitions in the middle order.
He now looks surplus to requirements in a team intent on defending their title.


Zeeshan Sadiq














[ad_2]

Source link