[ad_1]

Exiled Belarusian opposition leader Sviatlana Tsikhanouskaya warned that Belarus may start deploying its soldiers to Ukraine, urging Kyiv to prepare for a possible escalation of the war.
Tsikhanouskaya claimed in her interview with the Kyiv Post that most Belarusians are opposed to joining the war in Ukraine, but the possibility of Belarus joining Russia's military offensive remains.
Tsikhanouskaya urged Kyiv to prepare for the scenario amid the advances made by Ukrainian forces in the southern part of the country.
"Belarusian armed forces are part of the society and share the same view on the war – 86% of Belarusians are against participation in the war," Tsikhanouskaya said.
"However, the probability of such an order remains and might increase in coming weeks. I think the Ukrainian leadership is right to prepare for this scenario even though it means distracting significant forces from active war zones in the southeast," she continued.
The Belarusian opposition leader said she believes that Belarus and Russia both want "to destroy Ukraine, its European aspirations and national identity, and bring it under their control."
Tsikhanouskaya said Belarusian President Alexander Lukashenko sees a "democratic, free, European" Ukraine as a threat, claiming that it was logical for him and Russian President Vladimir Putin to invade the country.
She also accused Lukashenko's government of being "detached from the people" and obsessed with keeping the president in power, even if it meant giving the country's sovereignty to Russia.
Tsikhanouskaya's remark came after Putin set foot in Belarus' capital Minsk to meet Lukashenko for the first time since the war in Ukraine began in February.
The Kremlin said the two leaders will discuss the "further development of Russian-Belarusian strategic partnership," as well as international and regional issues.
In a news conference, Lukashenko joked that he and Putin are "both co-aggressors—the most harmful, toxic people on the planet," the New York Times reported.
Putin said he discussed with the Belarusian president the creation of a "unified defense space" and the continuation of the joint military exercises.
Putin also downplayed concerns that Russia would "absorb" Belarus, insisting that the Russian military presence in the country is not a takeover but "a matter of policy alignment."
As the meeting between Putin and Lukashenko began, Ukraine started to bolster its border with Belarus.
Ukrainian Deputy Interior Minister Yevhen Yenin told BBC Ukraine they are deploying armed forces and ammunition at the border.
Ukrainian President Volodymyr Zelensky said protecting the country's borders is a "constant priority," insisting they are preparing for "all possible scenarios."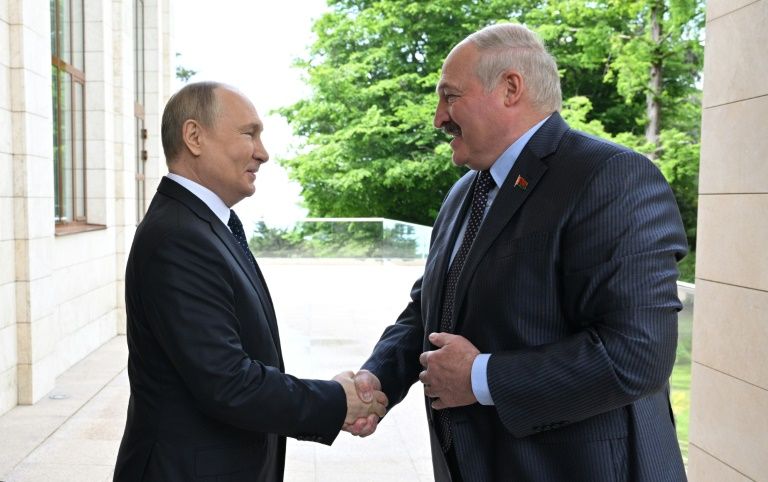 Related Articles


[ad_2]

Source link