[ad_1]

A Philippine military official has confirmed reports of the "swarming" of Chinese vessels in a part of the South China Sea claimed by the Philippines.
Vice Admiral Alberto Carlos of the Western Command (Wescom) of the Armed Forces of the Philippines (AFP) said they sent out a patrol to confirm the presence of several Chinese boats in the West Philippine Sea (WPS).
Carlos told the Philippine news outlet GMA News that the vessels gathered near Sabina Shoal.
"Sabina Shoal or Escoda, it's well within our Exclusive Economic Zone. About 20 vessels at any one time there," Carlos said.
Carlos said the individuals in the Chinese vessels claimed they flocked to the area for fishing.
Jay Batongbacal, a Filipino maritime law professor at the University of the Philippines, expressed alarm about the incident.
Batongbacal said the Chinese vessels, which he claimed were maritime militia posing as fishing boats, could cut Philippine presence in the area by stopping Filipinos from sailing out to fish or undermine military operations and oil and gas exploration in the area.
"These vessels are therefore part of Chinese activities to eventually cut the Philippines off from the West Philippine Sea," Batongbacal said in a Facebook post Wednesday, according to the Philippine Daily Inquirer.
Batongbacal said the location of the Chinese boats could be a strategy to intercept Filipino vessels and "passively intimidate or actively force" fishermen in the area.
The maritime expert added that the Chinese positions are near the Philippine petroleum explorations in Reed Bank and the northwest part of Palawan island.
Col. Medel Aguilar, a Philippine military spokesperson, said in a statement to GMA News that the AFP and Wescom would continue their maritime patrols and defend the West Philippine Sea from any foreign presence.
Aguilar said they reported foreign vessels in the area for violating the United Nations Convention on the Law of the Sea (UNCLOS).
Philippine Foreign Affairs Secretary Enrique Manalo echoed the military's sentiment, vowing to "uniformly subscribe to the UNCLOS" and raise the incident to other members of the Association of Southeast Asian Nations (ASEAN).
The swarming incident happened more than three weeks after the Chinese coast guard reportedly took the suspected debris of a Chinese rocket retrieved by Philippine authorities in the South China Sea by force.
The Philippine Department of Foreign Affairs (DFA) has protested the incident by sending a note verbale to China.
Last month, Vice President Kamala Harris visited the country to reiterate the United States' commitment to defend the Philippines against any attack through the Mutual Defense Treaty.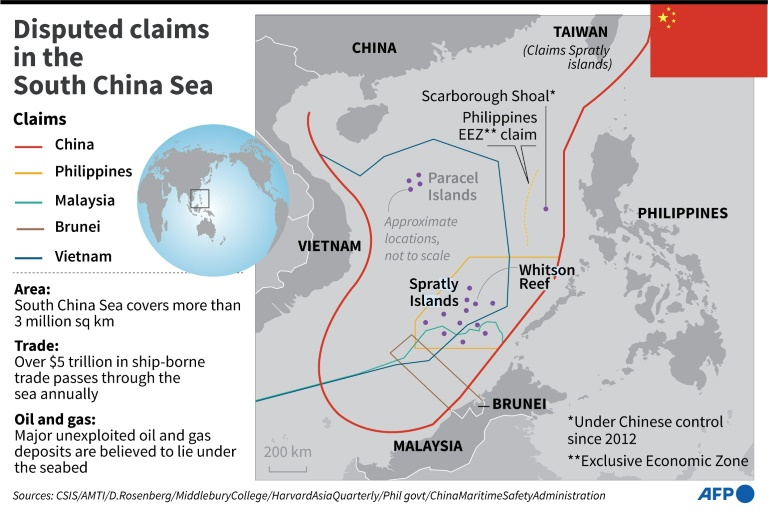 Related Articles


[ad_2]

Source link