[ad_1]

A Ukrainian soldier who became the first woman to lead an artillery unit in Ukraine's armed forces was photographed standing on top of Russian equipment her unit destroyed.
Lieutenant Lyubov Plaksyuk was the subject of a series of photos taken and shared by Ukrainian photographer Konstantin Liberov.
The images, which were uploaded on Instagram Thursday, showed Plaksyuk standing on top of wrecks.
"Nothing special [here]. It's just that the first woman to lead an artillery unit of the Armed Forces of Ukraine is standing on the ruins of the occupier's equipment, which was destroyed by the forces of her unit," Liberov wrote in his post, according to a translation provided by the General Staff of the Armed Forces of Ukraine.
Some of the images also featured Plaksyuk standing beside or riding on top of armored vehicles, one of which appeared to be a Ukrainian 2S5 Giatsint-S 152 millimeter self-propelled gun.
"She does not like to meet with journalists, and the fact that she agreed and took the time [for this shoot] is a great honor for us," Liberov said.
Plaksyuk, a former law and history teacher in her home region of Zhytomyr, became a contract soldier in Ukraine's military in 2016.
She had a 6-year-old son when she was interviewed by ArmyInform, a media agency under the Ukrainian Ministry of Defense, in 2020.
The ex-educator initially served as a radio operator in the Ukrainian Army's now-defunct 14th Separate Motorized Infantry Battalion before being appointed commander of the department.
Plaksyuk was later assigned as the head of the command platoon of the self-propelled artillery section of Ukraine's 26th Separate Artillery Brigade.
She then became the first woman to head an artillery unit in Ukraine's Army, Visegrad24 reported in May.
Plaksyuk has received several awards and honors over the course of her service, including the Order of Bohdan Khmelnytsky from Ukrainian President Volodymyr Zelensky.
Under Ukrainian law, the military award is only bestowed to citizens "for special merits in the protection of state sovereignty, territorial integrity and in strengthening the defense capability and security of Ukraine."
The Order of Bohdan Khmelnytsky III degree that Plaksyuk received is awarded specifically to Ukrainian military service members for their "flawless performance of military and official duty" or for demonstrating "valor and honor."
Plaksyuk also reportedly ranked 60th in the Ukrainian magazine Focus' "100 most influential women of Ukraine" list in 2020.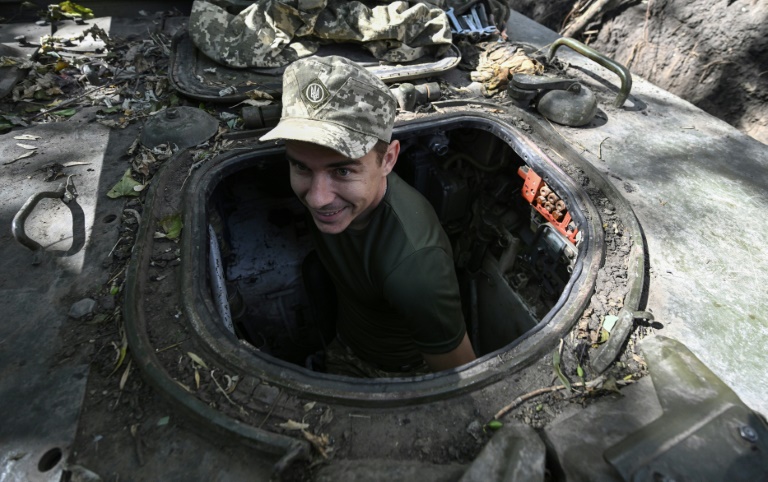 Related Articles


[ad_2]

Source link