[ad_1]

Ukrainian authorities have uncovered a mass burial site containing more than 400 bodies in Kharkiv Oblast, an official said Thursday.
Serhii Bolvinov, the chief police investigator for the Kharkiv region, said they found at least 440 bodies in graves and each body had been individually buried at the makeshift site near the recently liberated city of Izium.
"I can say that there is one of the biggest burials in one liberated city, which contains more than 440 graves. Some 440 bodies were buried in one place," Bolvinov told Sky News. "For me, it was especially shocking and horrific and this is a crime against humanity. It shouldn't be like this in a civilized world in 2022."
Bolvinov added that they are now exhuming all the bodies found at the burial site and are taking them away for forensic examination as part of an effort to gather evidence on suspected Russian war crimes.
Ukraine's President Volodymyr Zelensky confirmed the report in his daily address. He said they will give more "verifiable information" about the mass grave Friday and added that Russia should be held accountable for its actions.
"Tomorrow there will be Ukrainian and international journalists in Izyum. We want the world to know what is really happening and what the Russian occupation has led to. Bucha, Mariupol, now, unfortunately, Izyum… Russia leaves death everywhere. And it must be held accountable for that. The world must hold Russia to real account for this war. We will do everything for this," Zelensky said.
The president's chief of staff Andriy Yermak shared a picture of the mass grave in a Twitter post where he also called Russia a "murderer country."
The news about the mass grave near Izium comes after Bolvinov on Wednesday announced they have discovered what they believe to be a "torture chamber" used by the Russian troops to hold Ukrainian prisoners in the recently recaptured city of Balkliia in the Kharkiv region.
Bolvinov said that the Russians always held 40 people captive inside the torture chamber. Among those held in the chambers were students from an unspecified Asian country who were captured while attempting to leave for Ukrainian-controlled territory, he added, citing torture victims as witnesses.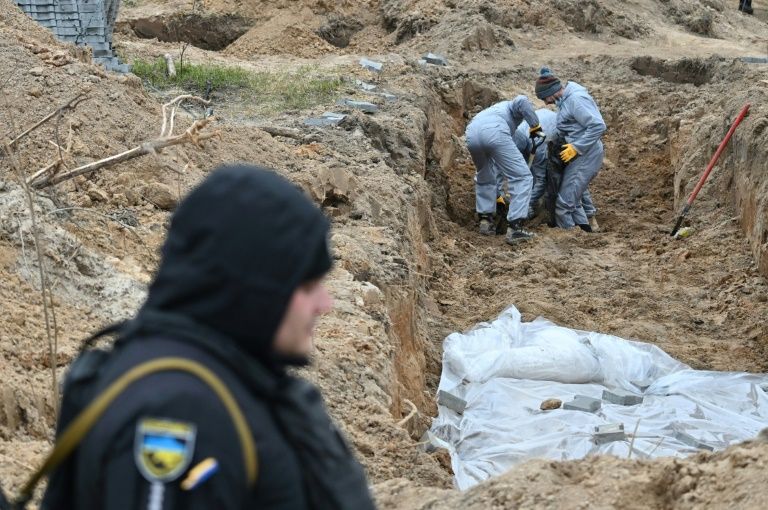 Related Articles


[ad_2]

Source link