[ad_1]

Mexican authorities confirmed they are now investigating Shanquella Robinson's death as a possible femicide following an international investigation triggered by the FBI and State Department.
According to ABC News, Mexican authorities said a spinal cord injury, not alcohol poisoning, as previously suspected, caused the Robinson's death while the 25-year-old North Carolina resident was vacationing with friends in Cabo San Lucas.
Robinson's parents say she traveled to Mexico on Oct. 28 to celebrate a friend's birthday. Less than 24-hours later, her friends frantically phoned Robinson's parents to say that Robinson had died from apparent alcohol poisoning.
However, a Mexican autopsy report later concluded that she died of a spinal cord injury. Robinson's parents believed foul play was involved, and called on the FBI to investigate. The FBI and State Department have been in contact with their Mexican counterparts.
An unauthenticated video circulating on social media appears to show Robinson being beaten inside a hotel room. In the video, an off-camera voice says, "Quella', can you at least fight back?" A female can also be seen being repeatedly slammed to the floor and punched in the head while trying to escape her attacker.
WSOC-TV also obtained Robinson's death certificate, which listed her cause of death as "severe spinal cord injury and atlas luxation." It also stated she died within at least 15 minutes of the injury.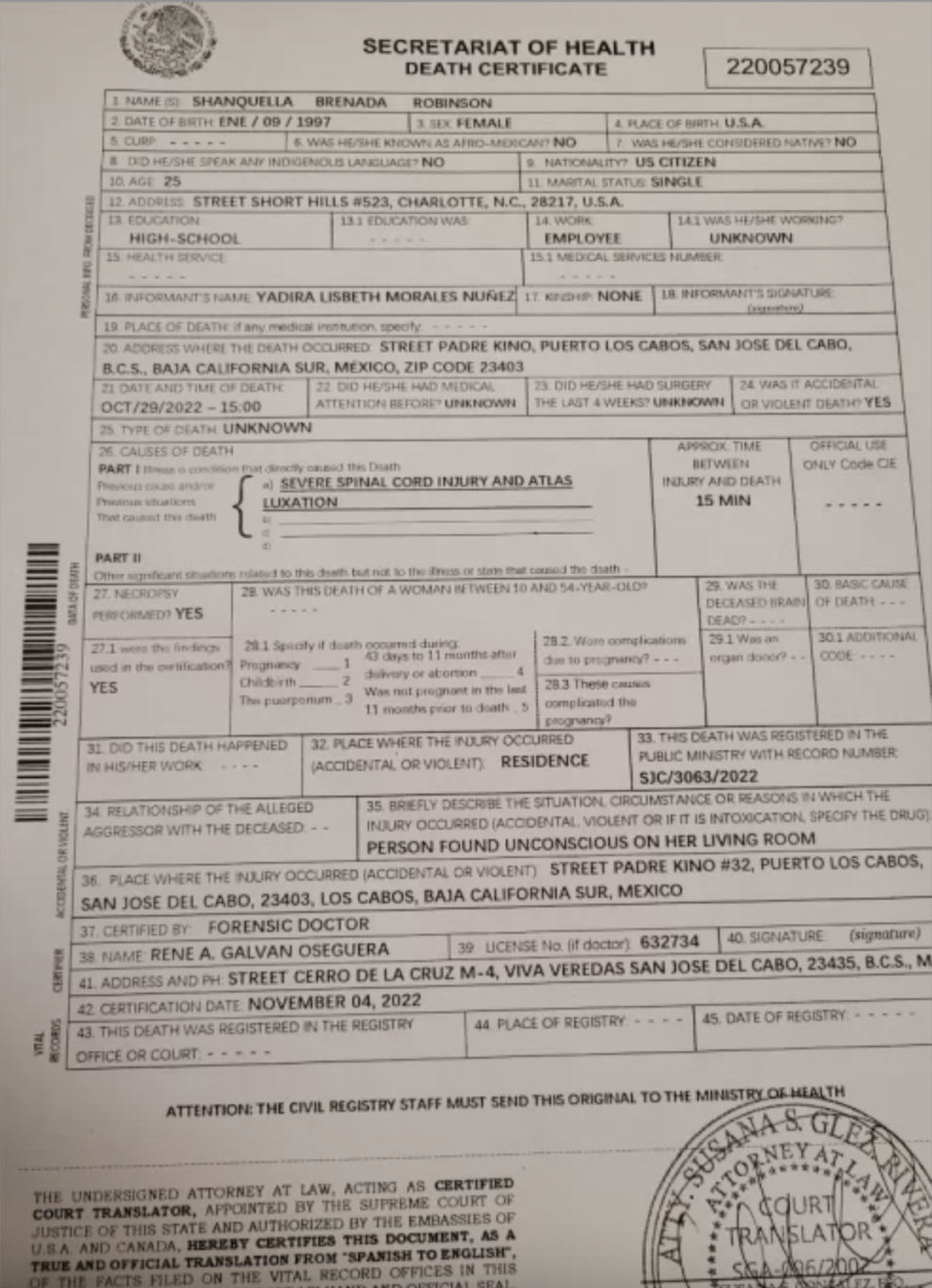 The state attorney's office of Baja California Sur told ABC News it will "maintain the lines of investigation to collect more evidence to achieve the accurate clarification of the events without ruling out any hypothesis."
Mexican authorities are often required to open an investigation as femicide to determine whether a person is killed for reasons due to their gender or if there were specific circumstances that caused her death. Gender-based violence must be ruled out before a case can be classified as a homicide.
The World Health Organization (WHO) generally defines femicide as the "intentional murder of women because they are women."
Mexico began officially counting femicide data in 2012. Approximately ten women are killed every day in Mexico. According to the Center for Strategic and International Studies, the rate women killed has doubled in the past five years.
Related Articles


[ad_2]

Source link