[ad_1]

Jailed Russian opposition figure Alexei Navalny, a staunch critic of Russian President Vladimir Putin, was placed in solitary confinement on New Year's Eve for washing his face half an hour earlier than he was supposed to.
According to a post on his Instagram account, Navalny was sent by Russian prison authorities to a solitary confinement cell for the 10th time since he began serving his sentence in the IK-6 maximum security prison in the Vladimir region of Russia.
"I managed to earn my 10th consecutive solitary confinement last year. My prison ghouls weren't lazy and convened their commission on the weekend of Dec. 31 just for me," the post read, Russian news outlet The Insider reported.
Navalny said the prison officials decided to send him to solitary confinement after a video surveillance operator of the Russian prison noted that he washed his face at 5:24 a.m. when he was supposed to get up at 5 a.m. and wash his face at 6 a.m.
The jailed Putin critic was ordered to spend 15 days in the confinement cell, where he celebrated the New Year along with his "old friends," whom he described as "the hobo" and "the psycho."
A convict who had been previously held in the prison's medical unit with flu patients was also recently transferred to Navalny's jail cell, according to The Insider.
Navalny's lawyer Vadim Kobzev accused prison authorities of using Navalny's fellow prisoner as a "bacteriological weapon."
Kobzev said the opposition figure is currently suffering from fever, chills and cough as a result of staying in the same confinement cell as the unnamed prisoner with poor hygiene and severe flu symptoms, The Moscow Times reported.
Navalny has also served solitary confinement punishments in the past.
In October 2022, Navalny was punished after he refused to clean a fence. According to him, washing the fence is "complete nonsense."
He was also sent to solitary confinement for unbuttoning his shirt and for failing to put his hands behind his back while walking down a corridor.
During his time in prison, Navalny has complained about the poor treatment authorities are giving him.
In November last year, he sued the prison administration after they failed to provide him with winter boots as cold temperatures began to engulf Russia.
Navalny developed severe back pain from the poor conditions inside the jail.
Navalny was already serving a two-and-a-half-year sentence for parole violations related to charges he said were fabricated when he was sentenced in March last year to nine more years in prison due to alleged large-scale fraud and contempt.
Navalny became known as the most serious challenger to Putin because of his anti-corruption crusade that exposed the Russian government's corrupt practices through blogs and videos.
But his life was endangered in 2020 when he was poisoned by a Novichok nerve agent during his flight en route to Siberia. Navalny was treated in Berlin, Germany.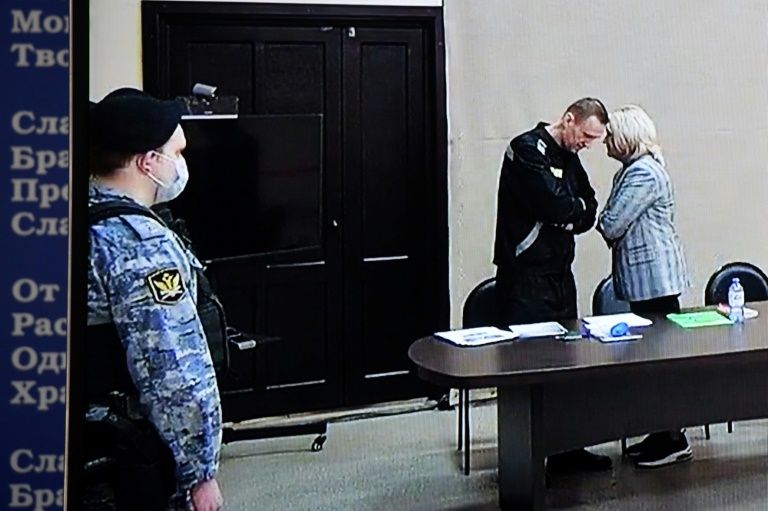 Related Articles


[ad_2]

Source link