[ad_1]

Just hours after North Korea tested a barrage of multiple-range missiles and shells to the east and west of the Korean Peninsula on Thursday, the U.S. issued a stern warning saying any nuclear attack by Pyongyang would "result in the end of the Kim regime."
At a meeting between Defense Secretary Lloyd Austin and his South Korean counterpart Lee Jong-Sup on Thursday, the two countries "reaffirmed the shared vision for a global comprehensive strategic alliance," while emphasizing their "commitment for promoting democratic norms, human rights, and the rule of law in the Indo-Pacific region."
"Any nuclear attack against the United States or its Allies and partners, including the use of non-strategic nuclear weapons, is unacceptable and will result in the end of the Kim regime," Austin said, according to a joint statement issued by Pentagon.
The joint communiqué came just hours after Pyongyang tested a range of missiles, which included the failed launch of an intercontinental ballistic missile (ICBM).
In March, North Korea announced the launch of a Hwasong-17 missile – the country's latest ICBM variant, which was described as a "powerful nuclear war deterrent" by state media. Although a lot remains unknown about the missile's capability, the Hwasong-17 can reportedly put the entire U.S. mainland within striking range.
The Washington Post previously reported that North Korea had successfully produced a miniaturized nuclear warhead that can fit inside its missiles, citing a confidential intelligence assessment.
According to a U.S. intelligence estimate in 2017, Pyongyang had around 60 nuclear weapons and each year, the country produced enough fissile material for 12 additional weapons. It means by now, the country would have enough fissile material for more than one hundred nuclear weapons.
The U.S. policy toward North Korea, challenged by other immediate global concerns, has vacillated between dialogues and sanctions. Under former President Donald Trump, the relations between the two countries oscillated from extreme belligerence to fancy diplomatic overtures. Meanwhile, Pyongyang has consistently used the interlude to further its nuclear weapons capability.
North Korea recently passed a law enshrining the right to use preemptive nuclear strikes to protect itself. Pyongyang said it will carry out a preventive nuclear strike "automatically" and "immediately to destroy hostile forces," when a foreign country poses an imminent threat to the country and its leader, Kim Jong-un.
Tensions between Washington and Pyongyang are also high over allegations that North Korea is secretly supplying Russia with a significant quantity of ammunition for its war in Ukraine, attempting to disguise the shipments as deliveries to the Middle East and North Africa.
Pyongyang had earlier rubbished the allegations, terming them "rumors" spread by "hostile forces" aimed at tarnishing the country's image.
At a time when Washington finds itself torn between Russia's invasion of Ukraine, increasingly bellicose Iran and aggressive posturing by Beijing, North Korea's rabble-rousing is threatening to stretch its diplomatic efforts and spread the U.S. forces thin.
A recent report on U.S. military strength, from the think tank Heritage Foundation, warned the current military force is "certainly ill-equipped to handle two nearly simultaneous" major regional contingencies.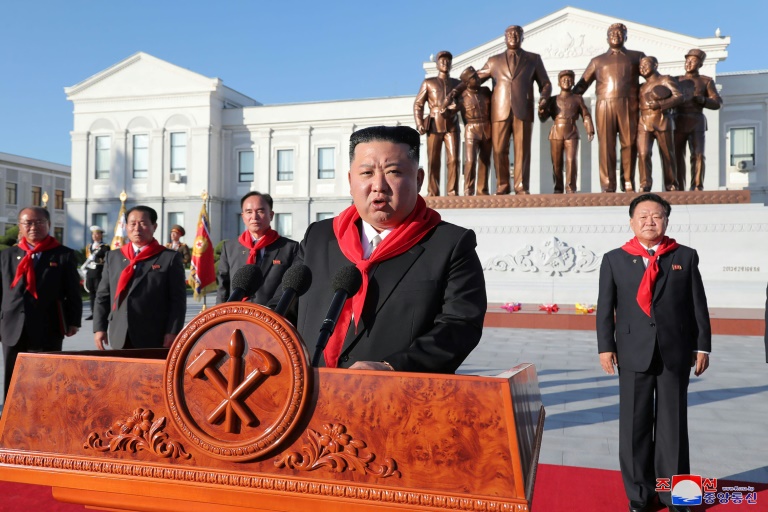 [ad_2]

Source link