[ad_1]

The harrowing final moments inside a plane before it crashed in Nepal, killing at least 68 people, were captured on video by one of the passengers.
A passenger live-streamed on Facebook the situation inside the Yeti Airlines aircraft Sunday without knowing they were about to crash.
The Facebook Live video, which has since gone viral, was taken by a passenger identified by the Daily Mail as an Indian man named Sonu Jaiswal and showed passengers smiling as their plane hovers over residential houses.
The footage showed the Yeti Airlines logo and a Nepalese insurance advertisement on the back of a passenger seat.
The camera eventually began to shake, and passengers can be heard shouting as their aircraft suddenly became erratic in the air. The clip then went black with a loud bang, before flames lit up the frame.
The passenger's cousin Rajat Jaiswal confirmed that the final moments of the plane were live-streamed via Sonu's Facebook profile, the Times of India reported.
Sonu was with three companions during the flight, and one of them can be heard shouting, "It's real fun," in the footage moments before the plane crashed.
TMZ suggested that the person recording might have survived the plane crash, but their current condition is unclear.
The plane had 72 passengers onboard, and among them were 15 foreign nationals. Thus far, 68 people were reported dead and four people are still missing. Search efforts are underway.
The aircraft was making a 27-minute flight from Nepal's capital Kathmandu to the resort town of Pokhara. But it struggled to land safely at the newly opened Pokhara International Airport.
According to Nepal's Civil Aviation Authority, the doomed airplane made its last contact with the airport near Seti Gorge at 10:50 a.m. local time Sunday.
Bishnu Tiwari, a local resident who rushed to the crash site, said thick smoke and fire made rescue efforts difficult.
"The flames were so hot that we couldn't go near the wreckage. I heard a man crying for help, but because of the flames and smoke, we couldn't help him," Tiwari said, the Associated Press reported.
Tek Bahadur K.C., a senior administrative officer in Nepal's Kaski district, said they expect to retrieve more bodies at the crash site.
Nepalese Prime Minister Pushpa Kamal Dahal set up a panel to investigate the country's deadliest airplane accident in three decades.
The prime minister said they deployed the "full force of the Nepali army" to help with the rescue operations.
A veteran airline consultant told Australian news outlet ABC that the pilots likely "lost control" of the plane.
Airline consultant Neil Hansford said that based on initial reports, he believed that the cause of the plane crash was "pilot-handling," adding that fuel is not an issue.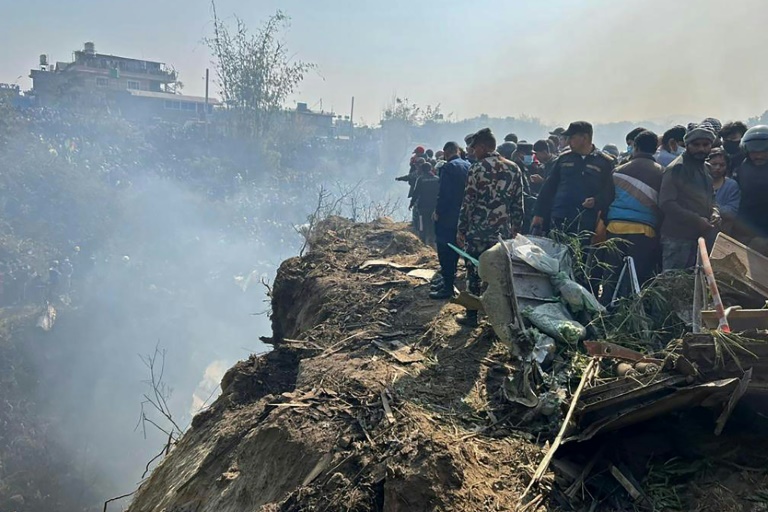 Related Articles


[ad_2]

Source link