[ad_1]

In a first such exercise in 2023, dozens of People's Liberation Army (PLA) aircraft, along with naval vessels, conducted joint alert patrol and combat exercises around the island of Taiwan Sunday, with a military expert in Beijing warning that the drills are set to intensify this year.
Taiwan's defense authority said that 57 PLA aircraft and four People's Liberation Army Navy (PLAN) vessels were detected around Taiwan in 24 hours until 6 a.m. local time Monday. The island's forces monitored the situation and were tasked to respond to these activities.
The PLA's Eastern Theatre Command reportedly said in a statement Sunday evening that its forces conducted "joint combat readiness patrols and actual combat drills" in the sea and airspace around Taiwan, focusing on land strikes and sea assaults.
The PLA will only intensify the military drill this year if pro-independence Taiwanese and Western provocations do not stop, a Beijing-based military expert who requested anonymity told Global Times Sunday. The drills are aimed to serve as a warning while also improving the combat readiness of PLA forces, the expert added.
Sunday's joint drills focused on practicing cross-service joint alert patrol and realistic combat-oriented exercises in the sea and aerial areas around the island of Taiwan, Senior Colonel Shi Yi, a spokesperson at the PLA Eastern Theater Command, said in a statement, as per the outlet.
The statement added that the aim of the exercises was to test joint combat capabilities and "resolutely counter the provocative actions of external forces and Taiwan independence separatist forces."
Of the 57, at least 28 aircraft breached the median line of the Taiwan Strait, an unofficial buffer zone separating China and Taiwan, and entered Taiwan's southwest air defense identification zone (ADIZ) and flight paths, Taiwanese authorities said in a tweet Monday.
This is the first such joint exercise by the PLA Eastern Theater Command in 2023. The previous one was held on Dec. 25, 2022, when China sent 71 warplanes for military exercises around Taiwan, with 43 of the aircraft crossing the median line, one of the biggest daily incursions to date. That drill came shortly after U.S. President Joe Biden signed the National Defense Authorization Act, which authorized up to $10 billion in security assistance for Taiwan over the next five years.
In 2022, China sent 1,727 planes into Taiwan's ADIZ, according to an AFP database based on daily information from Taipei's defense ministry. There were only around 960 incursions seen in 2021 and 380 in 2020.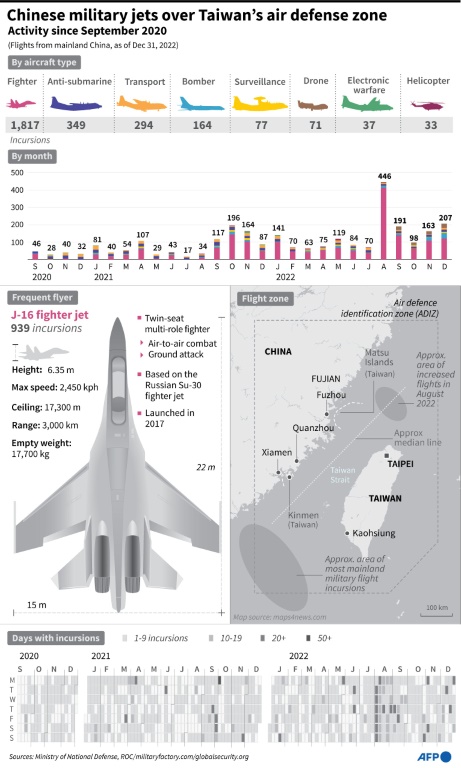 While fighter jet sorties more than doubled from 538 in 2021 to 1,241 in 2022, the number of bombers incursions, including the nuclear-capable H6, more than doubled from 60 to 101. Meanwhile, 2022 also saw the first Chinese drone incursions in Taiwan. In all, 71 drone incursions were reported by the Taiwanese military since then-House Speaker Nancy Pelosi visited Taipei in August 2022.
The latest drills by the PLA around Taiwan have come just days after the new U.S. House Speaker Kevin McCarthy was sworn into office. McCarthy, an avowed China hawk, has also pledged to visit Taiwan like his predecessor, Pelosi — a move sure to further anger Beijing.
China views Taiwan, which is a democratically governed island nation, as its own territory and has been increasing military, political and economic pressure to assert its claims. Meanwhile, Taiwan strongly rejects Beijing's sovereignty claims, asserting the right to decide its own future.
Related Articles


[ad_2]

Source link