[ad_1]

Dmitry Medvedev, a former Russian president and a staunch ally of President Vladimir Putin, suggested that Japanese Prime Minister Fumio Kishida should eviscerate himself, accusing the Japanese leader of being a servant to the United States.
Medvedev alluded to the joint statement by President Joe Biden and Kishida, declaring that "any use of a nuclear weapon by Russia in Ukraine would be an act of hostility against humanity," the Washington Post reported.
Medvedev said on his Telegram account that Kishida should atone for "shameful" acts by performing a "hara-kiri," a Japanese term for a ritualistic suicide by disembowelment, in front of his Cabinet.
"It remains to pity the Japanese. After all, such a shame can be washed away only by committing a hara-kiri right at a meeting of their Cabinet upon their return," Medvedev said.
The former Russian leader explained that Kishida, "in a humiliating, loyal ecstasy, is talking nonsense about Russia" and allegedly betrayed the hundreds of thousands of Japanese killed by nuclear strikes in Hiroshima and Nagasaki at the end of the Second World War.
Medvedev also described the declaration of Biden and Kishida as a "paranoia."
Putin's ally's remarks came after the American and Japanese leaders met at the White House last week to bolster its partnership.
Kishida told Biden that Japan and the U.S. are "currently facing the most challenging and complex security environment in recent history."
In a joint statement released by the White House, Biden and Kishida said they would continue to impose sanctions on Russia and support Ukraine despite Russian attacks on its critical infrastructure.
"We have stood together in firm opposition to Russia's unjust and brutal war of aggression against Ukraine, and we will continue to impose sanctions on Russia and provide unwavering support for Ukraine," the statement read.
The two leaders have also vowed to counter Chinese aggression in the Indo-Pacific region and continuously stand with Taiwan in the face of threats to its democracy.
The joint statement has also earned the ire of China, an ally of Russia, with Chinese Foreign Ministry spokesperson Wang Wenbin calling it "a zero-sum Cold War mentality" and contains groundless smears against their country.
The meeting of Biden and Kishida came following the U.S.'s announcement that it would significantly increase its anti-ship missile capabilities in Japan.
The U.S. is set to establish a Marine Littoral Regiment, a small unit of the Marine Corps designed to respond to security threats around Japan rapidly.
Japan has also unveiled its plans to dramatically increase its defense budget by 56% over the next five years, or $324 billion, after decades of low defense spending due to its constitutional commitment to avoid war.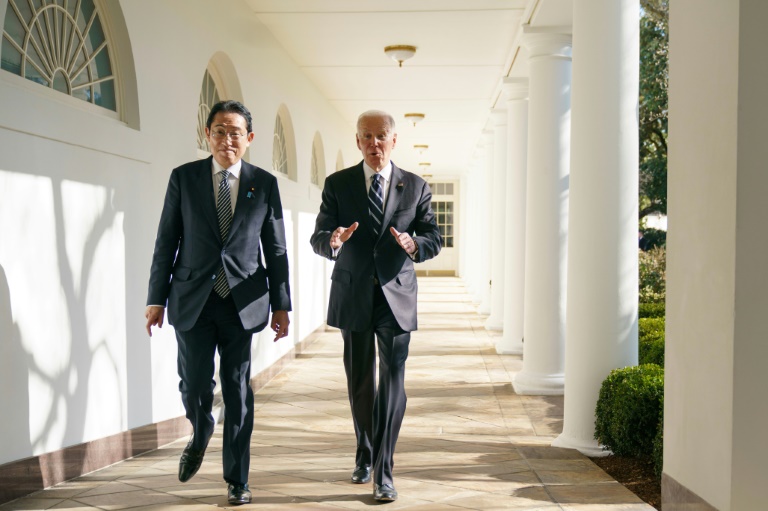 Related Articles


[ad_2]

Source link