[ad_1]

In his joint press conference with Ukrainian President Volodymyr Zelensky at the White House, President Joe Biden said Russian President Vladimir Putin does not intend to end the war in Ukraine.
Biden said Wednesday that the U.S. will continue to support Ukraine's capability to defend itself from the Russian attacks as the war looks to stretch into the new year.
"We also know that Putin has no intention — no intention of stopping this cruel war," Biden said. "And the United States is committed to ensuring that the brave Ukrainian people can continue — continue to defend their country against Russian aggression as long as it takes."
Biden said Putin failed in his objective to invade Ukraine, saying that the Russian leader would not be accepted by the Ukrainian people even as he is increasingly targeting the civilian population.
Biden emphasized that Putin will not seek peace but that Ukraine is determined to advocate for peace, Ukrainska Pravda reported.
He also reiterated the U.S. commitment to support Ukraine, telling Zelensky that his country "will never stand alone."
Meanwhile, Zelensky said Putin was lying as he recalled the Russian leader's remark in their 2019 meeting that a full-scale invasion of Ukraine would not happen.
Zelensky said his government sent "maximum messages" to Putin to stop the aggression and find a diplomatic solution to avoid a full-scale war.
During the news conference, the Ukrainian leader thanked Biden and Congress for continuing to provide support to the Ukrainian forces.
But Zelensky pressed Biden to provide more military aid to Ukraine, saying, "We are in the war."
Zelensky's visit to Washington was his first trip outside Ukraine since the Russian invasion began.
As the Ukrainian president set foot in the U.S., the Biden administration announced that it will provide Ukraine with $1.8 billion worth of new security assistance.
For the first time, the U.S. will supply Ukraine with a Patriot air defense system and precision-guided munitions after months of requests from Zelensky to supply the Ukrainian military with more advanced weapons to counter Russian attacks.
A senior Biden administration official said the U.S. will train Ukrainian military personnel to use the Patriot system in a third country, which analysts believe would be Germany.
The Congress is also poised to pass a $45 billion emergency assistance to Ukraine, as Biden looks to continue helping the country in 2023 and beyond before the Republicans take over the House of Representatives in January.
Volodymyr Fesenko, head of the Kyiv-based think tank Penta Center, told "PBS NewsHour" that Zelensky's trip will help Ukraine maintain and strengthen military and economic relations with the U.S.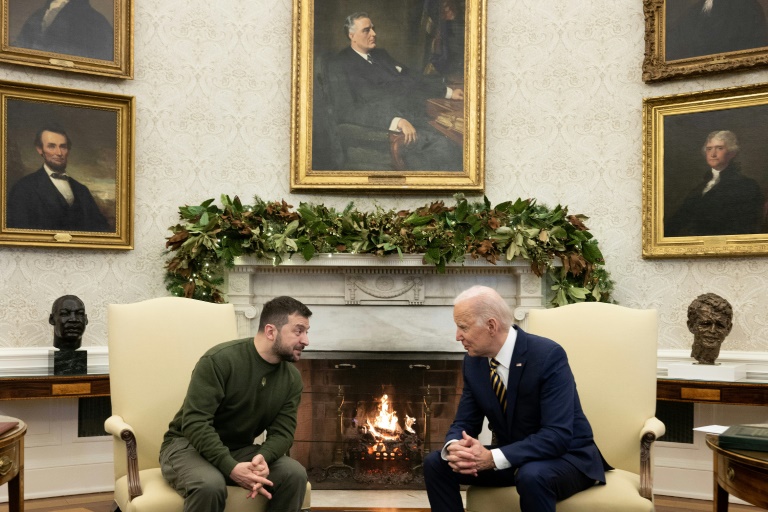 Related Articles


[ad_2]

Source link