[ad_1]

Russian President Vladimir Putin revealed that he contacted soldiers on the battlefield in Ukraine during his meeting with a carefully selected group of mothers of soldiers mobilized for the "special military operation."
Putin met with the Russian mothers at the official presidential residence in Novo-Ogaryovo in the Moscow region Friday, Russian news outlet Meduza reported, citing the Kremlin's press service.
The Russian president claimed that he spoke with soldiers by phone through their mothers and called them "heroes."
"Sometimes I talk to them — I spoke by phone directly with some of the guys. In any case, I spoke to some whose mood, whose attitude towards this business, actually surprised me. They didn't expect to get calls from me — these calls were also through their moms, by the way. It gives me every reason to say they're heroes. That's the truth," Putin said, according to a translation provided by Meduza.
Reuters reported that Putin paid tribute to the soldiers defending "Novorossiya," a Tsarist empire-era term for "new Russia," which Russian nationalists often used to describe Ukrainian territories claimed by the Russian forces.
A woman from Ukraine's Donetsk region told Putin that her son's loss had inspired her to ensure that the territory, which was unilaterally annexed by Moscow earlier this year, would be part of Russia.
Putin said to the mother, identified as Nina Pshenichkina, that her son achieved his goal for the war and that he "did not leave life in vain," according to Reuters.
While the Russian mothers expressed their gratitude to Putin, most of them brought complaints regarding the poor conditions of the soldiers on the frontlines.
Putin told the mothers that he understood their concerns and fears for the safety of their sons during the war.
"I would like you to know that, that I personally, and the whole leadership of the country – we share your pain," Putin said.
But an organization formed by relatives of mobilized Russian soldiers complained about being ignored by authorities.
Olga Tsukanova of the Council of Mothers and Wives addressed Putin directly in a video message on the Telegram messaging app, saying that they were ready to meet with him and were waiting for his reply.
"We have men in the ministry of defense, in the military prosecutor's office, powerful guys in the presidential administration… and mothers on the other side. Will you start a dialogue or will you hide?" Tsukanova said, the Associated Press reported.
In September, Putin ordered a partial mobilization of 300,000 Russian men to support its "military operation" in Ukraine.
But stories about ill-equipped and ill-trained Russian conscripts emerged as some of them either were killed, were injured or surrendered to Ukrainian forces.
Since Feb. 24, about 87,900 Russian military personnel have been killed in the ongoing conflict, according to the latest tally from the General Staff of the Ukrainian Armed Forces.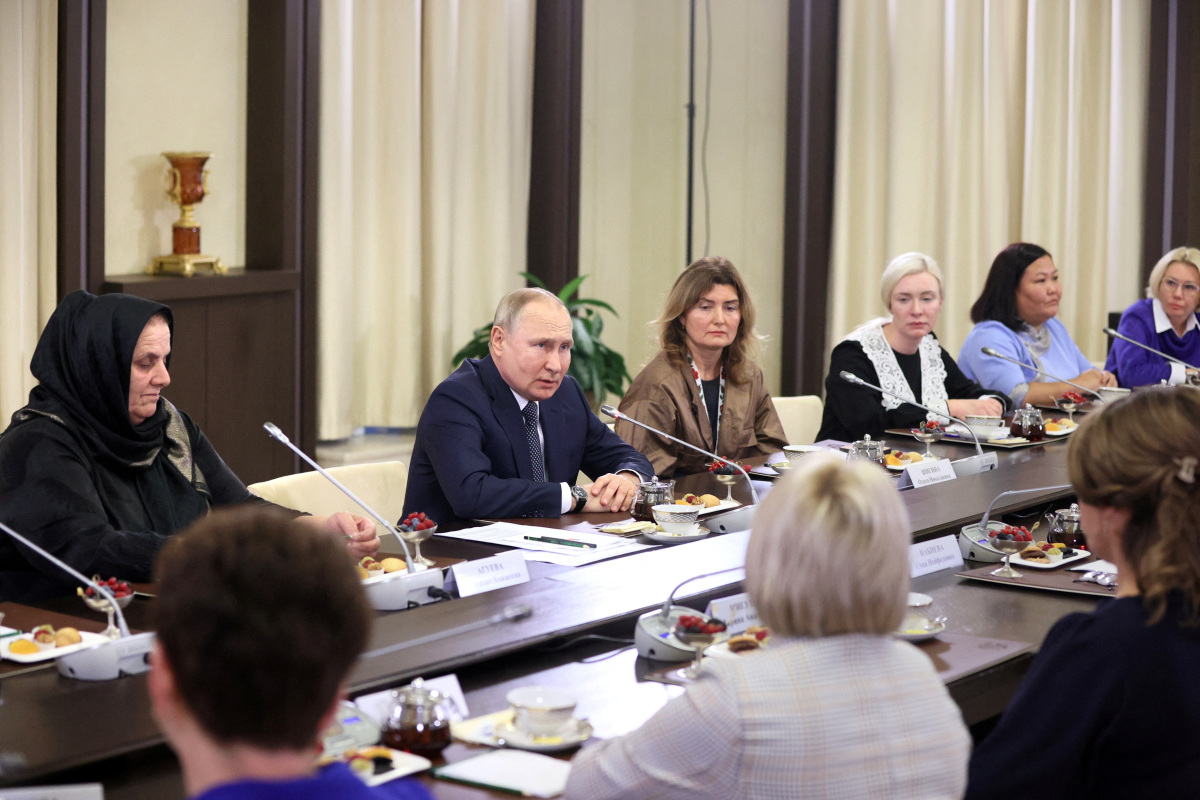 Related Articles


[ad_2]

Source link