[ad_1]

A woman in Russia's southeastern Zabaykalsky region has been fined around $435 because she "liked" an online post about Russian soldier deaths in the ongoing invasion of Ukraine, according to reports.
Nelly Loseva, a resident of Chita, received the 30,000-ruble penalty after she was found guilty of "discrediting" the Russian army, Sibir.Realii was told in the city's Central District Court.
Chita police drew up a case against Loseva in December 2022 for "liking" a post on the Russian social network service Odnoklassniki, according to the outlet, which is an affiliate of the United States government-funded Radio Free Europe/Radio Liberty.
"We're starting to see reports about the deaths of mobilized soldiers; there are going to be more and more. They're not protecting the Motherland, the motherland itself attacked a neighboring country. People are dying for no reason," the post read, according to a translation provided by independent news site Meduza.
Russia has lost 121,480 military personnel since it started its invasion of Ukraine in February of last year, the General Staff of the Armed Forces of Ukraine said in its most recent casualty report released Monday.
Authorities also accused Loseva of disrespecting state symbols for clicking "like" on a picture with the caption, "For visitors to my page: Putin is a d-ckhead, Crimea is Ukraine, and Russia is waging war against Ukraine."
Chita's Central District Court will hear the case on Feb. 1.
A judge in the court previously found Loseva's son, Ivan Losev, guilty of "discrediting" the Russian army after he shared on social media a dream he had featuring Ukrainian President Volodymyr Zelensky.
"[T]he Armed Forces of Ukraine headed by Zelensky burst in, everyone was detained, and they were going to shoot us, and at that moment Zelensky passed by me and said: 'Oh, I saw your stories on Instagram. Glory to Ukraine!' I answered: 'Glory to the Heroes!' Zelensky happily patted me on the shoulder and said: 'OK, let him go, and shoot all the others," Losev's post read.
"And so, we are standing with him, looking at all this, and I ask him: 'May I take a selfie with you for Instagram?' Zelensky answers: 'Help yourself,'" he continued.
"Slava Ukraini," translated as "Glory to Ukraine" in English, is a popular Ukrainian salute that is often accompanied by the response, "Heroiam slava," or "Glory to the heroes!"
Losev, a sauna owner in Zabaykalsky Krai's administrative capital of Chita, was fined 30,000 rubles on Dec. 9, 2022, over his post.
Amendments to Russia's Criminal Code that were signed by Russian President Vladimir Putin in March last year made "discrediting" the country's armed forces punishable by up to five years imprisonment.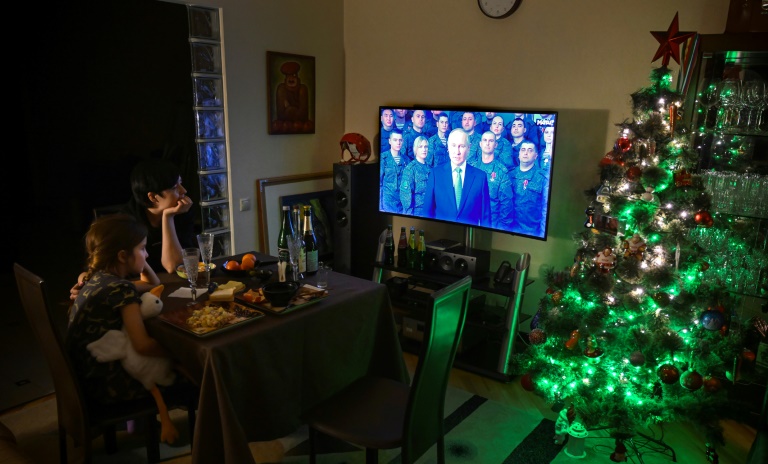 Related Articles


[ad_2]

Source link