[ad_1]

Ukrainian President Volodymyr Zelensky has revealed that Russia is planning a protracted attack using Iranian-made Shahed drones after 80 drones were shot down by Ukraine since the beginning of 2023.
Zelensky said Russia is betting on exhausting Ukrainian forces by carrying out drone attacks.
"We have information that Russia is planning a prolonged attack with 'Shaheds'," Zelensky said. "Its bet may be on exhaustion. On exhaustion of our people, our air defense, our energy sector."
The Ukrainian president stressed that "we must ensure – and we will do everything for this – that this goal of terrorists fails like all the others."
Zelensky thanked several Ukrainian air commands and anti-aircraft missile brigades for protecting the country's airspace from the Russian strikes.
Zelensky's remark came after the Ukrainian air force struck down 45 Iranian-made Shahed drones fired by Russia on New Year's Eve.
Andriy Nebitov, the head of the Kyiv police, shared a picture of the wreckage of a downed Shahed drone bearing the words "Happy New Year" in Russian, the Times of Israel reported.
But the Russian drone strike still managed to damage electrical facilities, causing emergency power outages in Ukraine's capital.
Ukraine said it first noticed that Russia was using Iranian-supplied weapons in September last year after it blew up a U.S.-made M777 howitzer used by the Ukrainian military.
The Shahed drones became more prominent in October, as Russia carried out drone strikes on Kyiv, killing four civilians in the process.
Iran's Shahed-136 can "dive toward its target and explodes on impact," The New York Times reported.
The drone can carry a warhead weighing 80 pounds, has a reported range of up to 1,500 miles and can be easily launched from the back of a truck.
The Shahed drone could also fly autonomously while waiting for its designated target to appear.
While Russia denied reports that Iran is supplying them with attack drones, the Iranian foreign minister admitted in November that they had provided Russia with Shahed drones in the months before it invaded Ukraine.
It has also been reported that both countries agreed to manufacture attack drones on Russian soil in an apparent strategic alliance between Russia and Iran in the face of sanctions imposed by the international community due to drone attacks against Ukraine.
But the U.S., an ally of Ukraine, recently launched a major effort to choke Iran's drone production by cooperating closely with Israel, which has experience in striking down Iran's attack drones.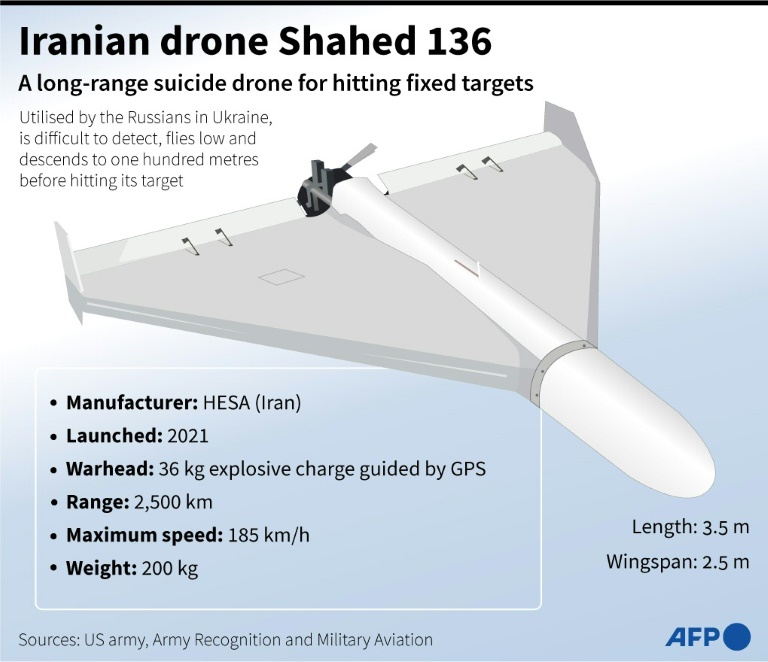 Related Articles


[ad_2]

Source link