[ad_1]

At least 30 Ukrainian civilians have died and 73 were injured when a Russian missile struck and destroyed a residential building in Dnipro, Ukraine, on Sunday.
Among the fatalities in the attack was a 15-year-old girl, Ukrainian President Volodymyr Zelensky said in his Sunday address, which came hours after the attack. The strike is now considered one of Russia's deadliest attacks on civilians since the war began in February 2022.
"Currently, the list of the dead includes 30 people, including one child — a girl, she was 15 years old," Zelensky said in his speech. "There are reports that two children lost their parents. My condolences to all those who lost their loved ones."
Apart from the deaths, 73 people sustained injuries in the attack, including a 27-year-old woman who has been placed in intensive care due to severe hypothermia. At least 40 civilians are still missing as of writing, per a Telegram post by Valentyn Reznichenko, Head of Dnipropetrovsk Oblast Military Administration, as translated by Ukrainska Pravda.
The Russian army reportedly used a KH-22 missile in the attack. Ukraine describes the Soviet-era anti-ship missile as an "aircraft carrier killer" that cannot be shot down by its current air defense systems.
"This missile with a 950 kg (2,000-pound) warhead, which is called an 'aircraft carrier killer,' is designed to destroy aircraft carrier groups at sea. It can be equipped with a nuclear element. And such a missile was used to hit a densely populated city. There is no explanation or justification for this terrorist act," Yuriy Ihnat, spokesperson for the Air Force of the Armed Forces of Ukraine, said in a statement, as quoted by Ukrinform.
Ihnat added that the missile was the same type used in an attack targeting a shopping mall in Kremenchuk in June.
President Zelensky has since announced expanded sanctions on Russians who "justify terror" against Ukrainians. He noted that the decisions about the new sanctions will be released "soon."
"I think it is right that today there is a decision to expand our sanctions against Russian citizens and other persons who help terror," he said. "This list is carefully prepared, and behind each name there is a responsible motivation."
Since the beginning of the conflict, the Russian army has killed a total of 6,952 civilians and injured 11,144 others, according to estimates from the Office of the UN High Commissioner for Human Rights (OHCHR) published on Jan. 10.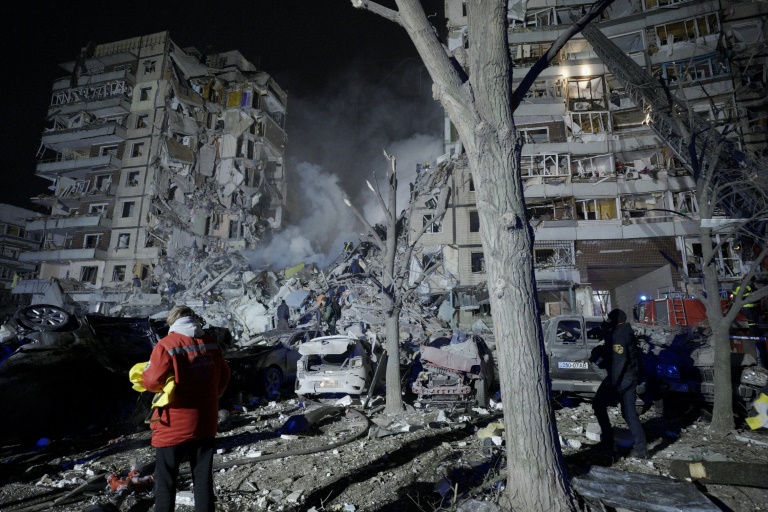 Related Articles


[ad_2]

Source link