[ad_1]

Russian forces intend to demolish 950 buildings in the Ukrainian city of Mariupol, according to an adviser to the city's mayor.
Petro Andriushchenko, an adviser to Mariupol Mayor Vadym Boychenko, wrote in his Telegram that Russian soldiers occupying the city are demolishing buildings and getting closer to the city center.
Andriushchenko added they had warned some residents that their homes would be demolished by Russians, Ukrainska Pravda reported.
"The destruction of the city continues. Now, the collaborative authorities are reaching the center of the city. The residents were warned that they will demolish the houses on Myru Avenue, 104, 106, 108, 110, 112," the adviser said.
Andriushchenko accused Russian occupiers of demolishing buildings to cover up their crimes and "erase pre-war, peaceful Ukrainian Mariupol from the memory of residents."
But despite the demolitions, Andriushchenko remained defiant and bared that Ukraine was already preparing a reconstruction plan called "Mariupol Reborn," with the help of world-renowned architects and urban planners.
On Saturday, Earth observation company Maxar revealed satellite images appearing to show that Russia is building a large military facility in Mariupol.
The BBC reported that the U-shaped facility has been erected near the city center. According to the outlet, the red, white and blue star of the Russian army can be seen on its roof, along with text that reads: "For the people of Mariupol."
Another satellite image showed that Mariupol's graveyard is being extended after Russian forces reportedly buried dead bodies which were retrieved from destroyed buildings.
Russians have also erected a large protective screen around the ruined city theater, where hundreds of Ukrainians were believed to have died after it was targeted by a missile attack in March.
Up to 90% of the city's infrastructure was destroyed by Russian airstrikes, according to Ukrainian officials.
Russia is planning to strengthen its grip on the Ukrainian city after it released a master plan for the restoration of Mariupol in October.
According to the plan, Russia wants to renovate a total of 8.71 million square meters of housing by constructing new private housing and multi-apartment buildings.
Russian occupiers indicated in their plan that they wanted to repair kindergartens, schools and 19 clinics across Mariupol by 2035.
Since Russian President Vladimir Putin ordered a military offensive against Ukraine in February, about 87,000 people have been killed in Mariupol, according to Mykola Osychenko, the president of Mariupol TV.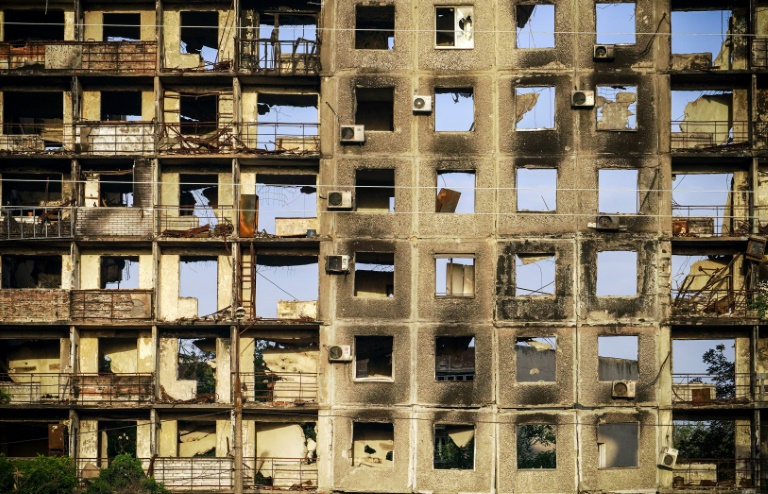 Related Articles


[ad_2]

Source link