[ad_1]

A man believed to be a deserter from the Russian army allegedly opened fire on police officers in Russia's southwestern Rostov region earlier this week.
Three officers in civilian clothes were searching for a missing 43-year-old woman at a factory in Novoshakhtinsk Tuesday when they encountered a man wearing a camouflage uniform and a balaclava in a wooded area, Russian media reported.
The man, described by the Telegram news channel Baza as being between 180 centimeters (5 feet and 9 inches) to 190 centimeters (6 feet and 2 inches) tall, then opened fire on the officers with a machine gun before escaping from the scene.
Baza shared footage that supposedly showed the shooter, who is suspected of being a deserter from the Russian army.
"According to preliminary data, the shooting at the policemen was carried out [using] a machine gun. According to preliminary information, the shooter, tentatively, is a deserter," an unnamed representative of law enforcement agencies told the Russian state news agency Tass.
But a security department source of the Russian newspaper Kommersant did not confirm the information.
"The identity of the shooter has not yet been established. And there is no reason to say that this is a deserter," the unnamed source told the publication.
One of the policemen was wounded in the pelvis as a result of the incident.
He was hospitalized following the shooting, with Rostov Gov. Vasily Golubev describing the victim's condition as moderate, Tass reported.
A team of vascular surgeons was sent to Novoshakhtinsk to provide assistance to the wounded officer, according to Golubev.
Authorities are still searching for the unidentified shooter.
Police units were reportedly stationed at all entrances to Novoshakhtinsk following Tuesday's incident. Meanwhile, some roads in and out of the city as well as kindergartens were closed.
"Everything" in the city is "now working as usual," Novoshakhtinsk Mayor Sergey Bondarenko was cited as saying in a more recent Tass report.
The branch of the Russian Investigative Committee in Novoshakhtinsk has opened a criminal case on encroachment on the life of a law enforcement officer and illegal circulation of firearms, or Articles 317 and 222, respectively, of the Criminal Code of Russia.
Rostov borders the eastern Ukrainian provinces of Donetsk and Luhansk, both of which are partially occupied by Russian and Russian-backed separatists.
Low morale and reluctance to fight may have caused Russian forces to deploy "barrier troops" or "blocking units," according to the United Kingdom's Ministry of Defense (MoD).
These units threaten to shoot retreating Russian soldiers, the ministry explained.
"The tactic of shooting deserters likely attests to the low quality, low morale and indiscipline of Russian forces," the MoD said in an intelligence report from last month.
Tuesday's shooting in Novoshakhtinsk is the first suspected instance of a deserter returning to Russia and shooting at security officials, according to The Moscow Times.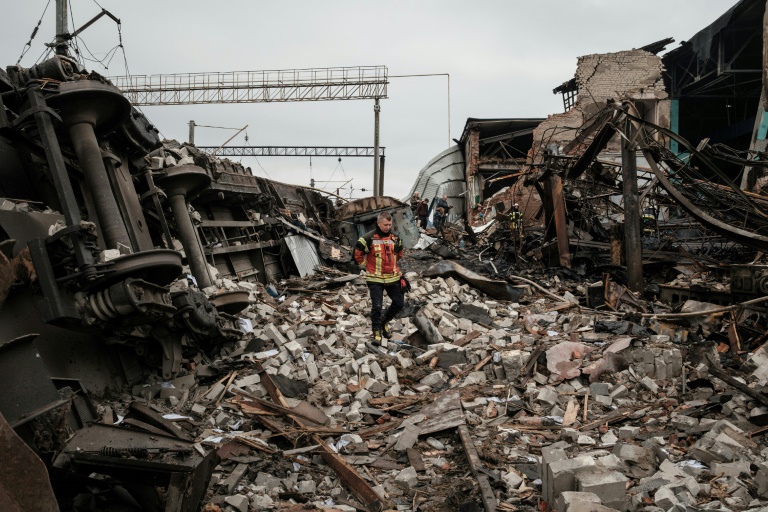 Related Articles


[ad_2]

Source link