[ad_1]

Russia has lost more than 100,000 of its military personnel in the invasion of Ukraine, sustaining 660 casualties between Wednesday and Thursday alone, data provided by the Ukrainian military showed.
Total combat losses among Russian military personnel since the conflict began in late February now numbered 100,400, the General Staff of the Armed Forces of Ukraine stated in its most recent casualty report released Thursday.
In its report from the previous day, the military staff said that Russia had 99,740 casualties at the time.
Russian losses also included 3,003 tanks, 5,981 armored fighting vehicles, 1,978 artillery systems and 283 aircraft, according to the updated data.
Russia's last official death toll from the war, which was provided by Russian Defense Minister Sergei Shoigu in September, claimed that 5,937 Russian soldiers had died in Ukraine up to that point.
Meanwhile, Ukraine has lost between 10,000 to 13,000 of its troops in the ongoing conflict, Mykhailo Podolyak, an adviser to Ukrainian President Volodymyr Zelensky, was cited as saying in a Dec. 1 report by Ukrainian state news agency Ukrinform.
Both Russia and Ukraine could be underreporting their casualty counts, the United Kingdom's Ministry of Defense (MoD) has suggested.
Russia has allegedly been funneling troops to the front line ill-equipped and with little training.
The Warsaw Institute, a think tank based in Poland, predicted that Russia could have 120,000 casualties by spring.
Russia wants its invasion of Ukraine to end, Russian President Vladimir Putin said Thursday.
Such a conclusion would involve a diplomatic solution, the Russian leader said.
Despite his comments, Putin has "shown absolutely zero indication that he's willing to negotiate," and his actions instead suggested that he wants to "escalate the war," White House spokesman John Kirby was cited as saying by Reuters.
"Everything [Putin] is doing on the ground and in the air bespeaks a man who wants to continue to visit violence upon the Ukrainian people," Kirby told reporters during an online briefing.
The official reiterated that President Joe Biden was still open to talks with his Russian counterpart, but only when Putin shows "a seriousness about negotiations" and after consultations with Ukraine and the U.S.' allies.
Putin's comments came a day after Zelensky delivered a speech to the U.S. Congress, urging for continued support against Russia.
"I would like to thank you, thank you very much, thank you for both financial packages you have already provided us with and the ones you may be willing to decide on. Your money is not charity. It's an investment in the global security and democracy that we handle in the most responsible way," Zelensky said.
The U.S. has provided about $68 billion worth of aid to Ukraine through previous rounds of military, economic and humanitarian assistance.
Congress is poised to approve another $44.9 billion in assistance for Ukraine, but several Republic lawmakers have expressed wariness about the assistance, the Associated Press reported.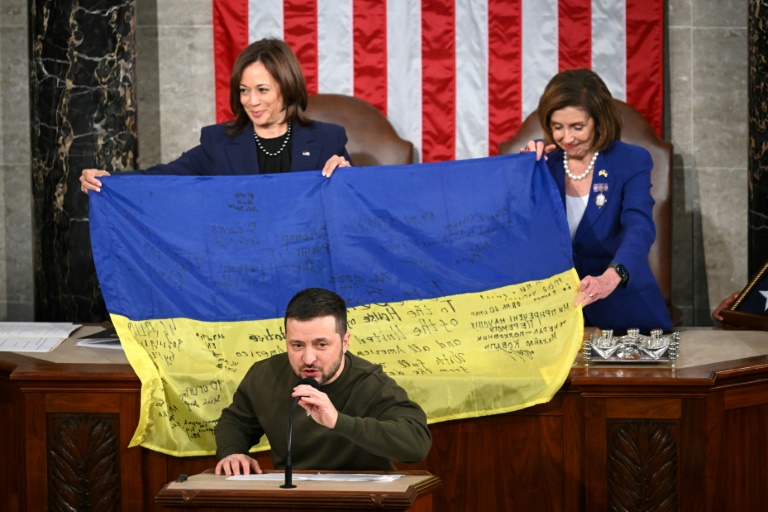 Related Articles


[ad_2]

Source link