[ad_1]

More than 70 facilities in the Ukrainian capital of Kyiv were damaged as a result of Russia's recent mass missile attack, according to local officials.
At least 71 facilities in the city were damaged in "varying degrees" from the Monday morning barrage, Kyiv Mayor Vitali Klitschko announced in a Telegram statement.
Among them were 45 residential buildings, six educational institutions and five healthcare facilities.
Several cultural and social institutions as well as facilities for critical infrastructure and utilities were also damaged, according to Klitschko.
Russia launched a total of 84 missiles at Ukraine, Ukrainian President Volodymyr Zelensky revealed in a televised address. Of those, 43 were shot down.
The bombardment, which also reportedly involved the use of Iranian-supplied Shahed series drones, was the first Russian strike on Kyiv since June.
It came hours after Russian President Vladimir Putin attributed Saturday's attack on the Kerch Strait Bridge to Ukraine.
The apparent retaliation against the attack on the bridge, which linked the annexed Crimean Peninsula and Russia, targeted military, energy and communication assets, according to Putin.
However, U.S. Secretary of State Antony Blinken noted in a statement that Russia's Monday strikes on Ukraine also hit non-military targets.
Under Article 8 of the Rome Statute of the International Criminal Court, the "extensive destruction and appropriation of property, not justified by military necessity [and] carried out unlawfully and wantonly" is considered a war crime.
Journalist Oliver Carroll, the foreign correspondent for The Economist, said he received pictures of "kids sheltering in bathrooms" and "grannies in hallways all across Ukraine."
"This is what terror looks like," Carroll said in a social media post.
The official Twitter page of the Ukrainian Ministry of Defense shared a photo that reportedly showed the Taras Shevchenko National University of Kyiv following Russia's strikes. It featured a room with shattered windows, broken ceiling panels and other damaged objects.
Ukraine's Defense Ministry also shared a supposed video of Kyiv residents singing the Ukrainian folk song "Oh, In the Cherry Garden" at a train station during an air raid alert.
The death toll from Russia's Monday attacks has risen to 14, while the injured numbered 97, Ukraine's State Emergency Service said in a statement.
Russia carried out the strikes during the morning rush on purpose as it "wanted to incite more fear and affect more people," according to Zelensky.
"We are dealing with terrorists," the Ukrainian head of state said in another speech.
United Nations Secretary-General António Guterres called the strikes "another unacceptable escalation of the war," while European Union foreign policy chief Josep Borrell said that "such acts have no place in [the] 21st century."
President Joe Biden, for his part, also condemned the Russian missile strikes.
"These attacks killed and injured civilians and destroyed targets with no military purpose. They once again demonstrate the utter brutality of Mr. Putin's illegal war on the Ukrainian people," Biden said in a statement.
Ukraine is now "doing everything" they can to get modern air defense systems, according to Zelensky.
"Ukraine cannot be intimidated. We united even more instead. Ukraine cannot be stopped. We are convinced even more that terrorists must be neutralized," he said.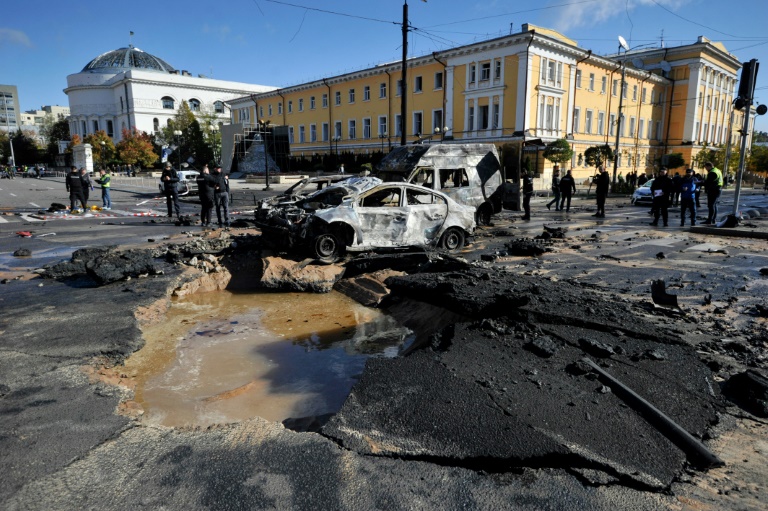 Related Articles


[ad_2]

Source link