[ad_1]

Russian forces killed civilians as they withdrew from recently liberated areas in Ukraine's partially occupied Donetsk region, a supposed Russian soldier revealed.
"Everyone was slaughtered" in Lyman when Russia's forces retreated from the city in the face of a Ukrainian counterattack, the unnamed Russian soldier told his wife or girlfriend in a call that was shared by the Ukrainian Ministry of Defense's Main Directorate of Intelligence.
The victims, he claimed, included old people and "muzhiks," a Russian term that refers to peasants.
Women were also raped and killed, according to the soldier.
"They were slaughtered over there," he said.
Upon being told of what happened, the Russian soldier's partner reacted by saying, "Terrible."
Russia's forces have repeatedly been accused of killing and deliberately targeting civilians in the ongoing invasion of Ukraine.
Mass graves containing the bodies of individuals exhibiting signs of abuse, torture and execution were found in Ukrainian territory previously occupied by Russian forces.
Several burial sites were found in Lyman, which Ukrainian troops liberated last month.
One site reportedly contained the bodies of around 200 civilians.
Most of the bodies that have been exhumed in Donetsk died from shrapnel injuries and natural causes, preliminary data showed.
However, some of them showed signs of violent death, according to a report by Ukrinform.
The "cruel treatment and torture" of non-combatants and military captives during conflicts is prohibited under the Geneva Conventions.
Meanwhile, "torture or inhuman treatment" and "willfully causing great suffering, or serious injury to body or health" in conflicts are considered war crimes under the Rome Statute of the International Criminal Court.
Russia in the past denied allegations that its forces killed civilians in Ukraine.
Several investigations into Russia's alleged human rights violations and war crimes have been launched.
Around 6,430 civilians, including 402 children, have been killed in Russia's invasion of Ukraine, the Office of the United Nations High Commissioner for Human Rights said in its most recent casualty report.
Due to delays in the receipt of information and the need for pending reports to be corroborated, the actual figures may be "considerably higher," according to the agency.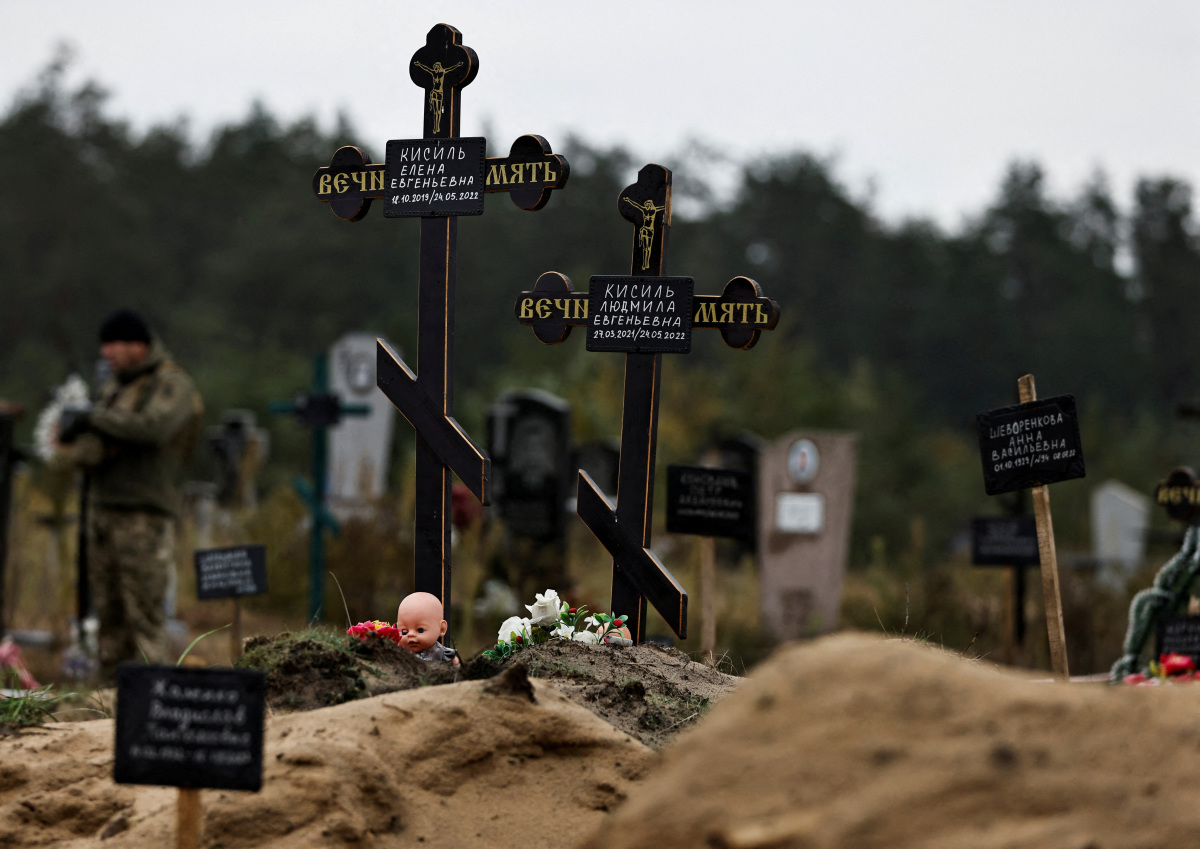 Related Articles


[ad_2]

Source link