[ad_1]

Russia is placing anti-tank obstacles across its border with Ukraine in an apparent attempt to fortify its defenses.
Concrete pyramidal structures known as "dragon's teeth," also known as "tank traps," are being installed in the fields of Russia's eastern Kursk region, Ukrainian outlet Pravda reported Wednesday.
Dragon's teeth, which get their name from the German word "Drachenzähne," were first used back in World War II to impede the movement of tanks and mechanized infantry. They have not seen combat ever since, according to The National News.
In a post on Telegram also made Wednesday, Kursk Gov. Roman Starovoyt shared photos that featured him seemingly inspecting dragon's teeth pieces that have already been installed in his province.
"We continue to strengthen the frontiers of Kursk," Starovoyt wrote.
It is unclear how effective dragon's teeth are, but some of the structures are already degrading, according to open-source intelligence initiative Oryx, which tracks the military losses of both Ukraine and Russia.
"The dragon's teeth installed as part of Russia's defensive line are already falling apart before a Ukrainian tank ever got in sight," the group said in a statement.
Russians are panicking as they fortify Kursk with dragon's teeth and ditches, according to Pravda.
The region borders Ukraine's western Sumy province, which Russia partially occupied after it launched its invasion in late February.
Russian forces ended up completely withdrawing from Sumy, and the province was later entirely liberated, Ukrainian President Volodymyr Zelensky said in April.
Russia went on the defensive in the war after experiencing a number of setbacks, Reuters reported in mid-November.
"It's clear that for now, the Russia occupation of Ukraine is a defensive operation," an unnamed Western official was quoted as saying by the outlet.
Russia started to create fortifications around occupied areas of Ukraine as reports of its battlefield losses came in, according to the United Kingdom's Ministry of Defense (MoD).
Dragon's teeth have likely been installed between the city of Mariupol in the partially Russian-occupied province of Donetsk and the village of Nikolske, the ministry said in an intelligence report from last month.
The report was released around the same time Russia announced that its forces had completely withdrawn from the administrative capital of Ukraine's Kherson province.
Russian President Vladimir Putin acknowledged Wednesday that Russia's invasion is taking longer than expected to finish.
"Of course, it could be a lengthy process," said the Russian head of state, who still refers to the war as a "special military operation."
Western officials believed that Putin initially planned for a rapid victory, the BBC reported.
Russia has resorted to launching waves of missile and drone attacks against civilian targets and energy infrastructure in Ukraine.
Zelensky has accused Russia of trying "to achieve with terror and murder what it wasn't able to achieve."
The U.K. MoD previously warned that Russia would step up its attacks on civilian targets as it continues to suffer defeats on the battlefield.
Ukraine's allies have sent over various air defense systems in the face of continued Russian strikes, including the National Advanced Surface-to-Air Missile System (NASAMS) from the United States, Aspide from Spain and IRIS-T from Germany.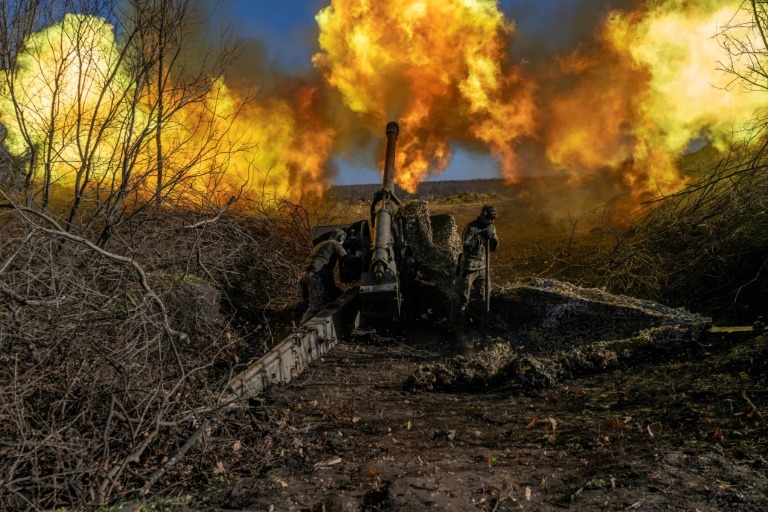 Related Articles


[ad_2]

Source link