[ad_1]

Russian forces who previously occupied a recently liberated village in Ukraine's southern Kherson province fatally shot a local man and his elderly adoptive mother, with the motives for the killings still unclear, according to reports.
Serhiy Novosad and his mother, Lyubov Novosad, aged 49 and 78, respectively, were found dead in a pit trench in a yard in Lvivski Otruby that had been occupied by a Russian unit, Ukrainian journalist Andriy Tsaplienko said in a statement posted on Telegram Friday.
The former was allegedly shot with a machine gun, which had its muzzle placed inside his mouth.
Meanwhile, Lyubov was most likely fatally shot in the head after her son, according to Tsaplienko.
The journalist did not state who was responsible for the killings, but Ukrainian outlet TSN reported Lvivski Otruby's Russian occupiers were to blame.
It was unclear why both Serhiy and Lyubov were taken from their house across the street and shot.
An investigation into the murders has been opened, Kherson Online reported.
The results of the investigation will probably be unknown for a long time, according to the outlet.
Ukrainian forces liberated Lvivski Otruby on Nov. 11, just days after Russia ordered its forces to retreat from Khershon's eponymous administrative center, Ukraine's Channel 24 reported.
Mass graves and alleged torture chambers had been discovered across the province as more areas were freed from Russian control.
Nine torture chambers were found in Kherson, along with the bodies of 432 "killed civilians," according to Ukrainian Prosecutor General Andriy Kostin.
Russian forces subjected civilians to summary executions, torture and other grave abuses in the invasion of Ukraine, Human Rights Watch alleged.
Amnesty International also accused Russia of carrying out deliberate killings, unlawful violence and widespread intimidation against unarmed civilians in its western neighbor.
Killing, torturing and taking hostage of non-combatants in war violate the Geneva Conventions.
Russia has repeatedly dismissed allegations that its forces intentionally targeted civilians in Ukraine.
Around 12 prosecutorial groups are now working in Kherson to document and investigate Russian war crimes, according to Kostin.
"Every Russian war crime, every terrorist attack of theirs will receive its legal response," Ukrainian President Volodymyr Zelensky said during a televised address on Nov. 17.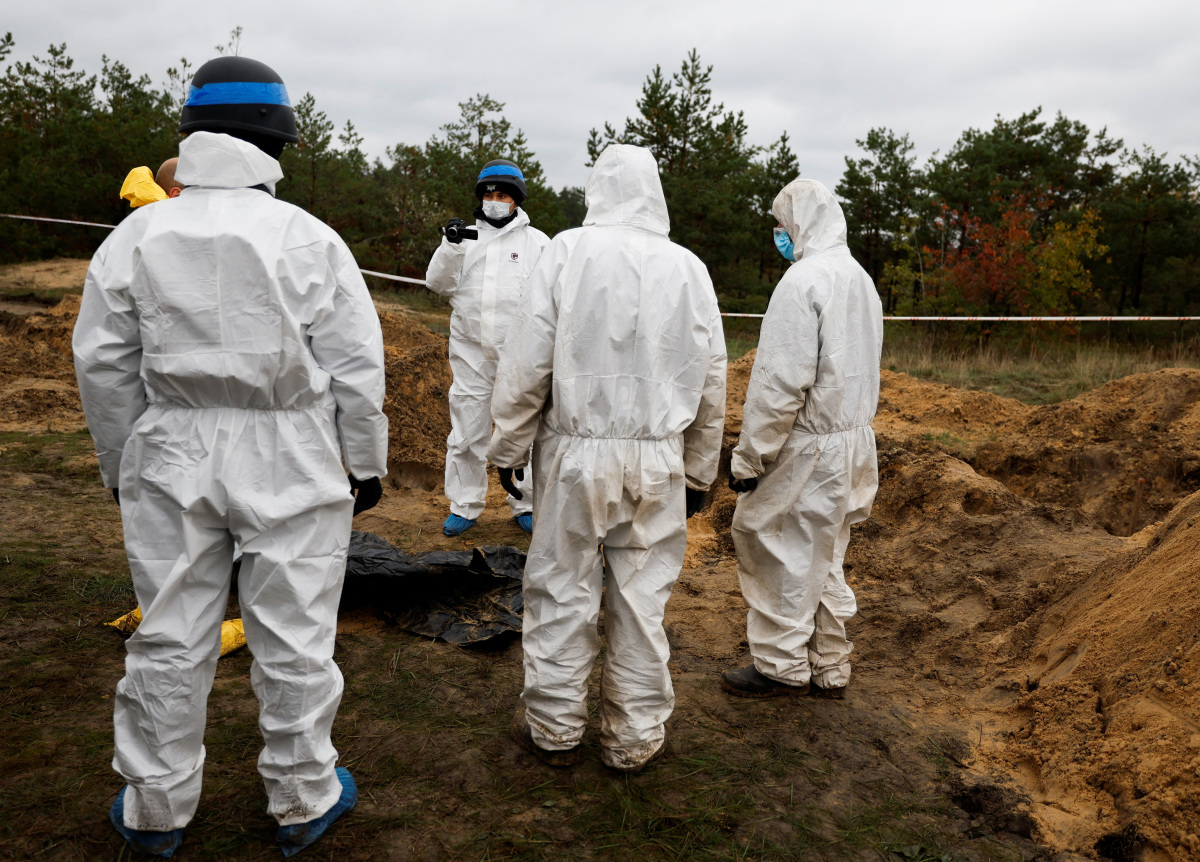 Related Articles


[ad_2]

Source link