[ad_1]

Russia could see its economy fail by winter following President Vladimir Putin's calls for the partial mobilization of at least 300,000 reservists, according to an economist.
Vladislav Inozemtsev, the director of Moscow-based think tank the Center for Research on Post-Industrial Studies, made the comments in a column released Sunday for Russian publication, The Insider.
"As I wrote early in March, 'the Russian economy will be dead by winter,' and now it feels like I was right…" Inozemtsev wrote. "The mobilization announced on Sept. 21 was a milestone that really divided Russian history into 'before' and 'after'—an event that began the final countdown of Putin's era, he continued, adding, "this 'Russian-style' mobilization harbors truly catastrophic risks for the national economy."
The economist also added that the Russian GDP will likely drop by as much as 5% in October alone. Previously, he predicted a 4% to 5% drop in Russia's GDP for the whole year.
"While the Russian GDP was expected to slump by 4-5% before the mobilization, today even my spring forecast of a 10% plunge looks overly optimistic," Inozemtsev stated, adding that the Moscow Stock Exchange could also dip below 1,500 points before 2023.
On Monday, Russia's stocks were down by 6.9% by the early afternoon, having already fallen as much as 7.4% earlier in the session. The stocks are now at their lowest point since Feb. 24, the day Putin launched the invasion of Ukraine, CNBC reported.
Russian markets have seen a decline since Putin announced a partial mobilization on Sept. 21. Since the order, a gunman opened fire at a draft office in the Siberian region of Irkutsk, seriously injuring one recruitment officer.
In a separate incident, a man, who was not identified, set himself on fire at a bus station in Ryazan. During the incident, the man was shouting he did not want to fight in Ukraine. He has since been taken away in an ambulance, according to Reuters.
On Monday, over 100 people in Makhachkala had been arrested while protesting against Putin's order. More than 2,000 demonstrators have been arrested at mass protests since last week, with over 700 people arrested Saturday alone, as reported by BBC News.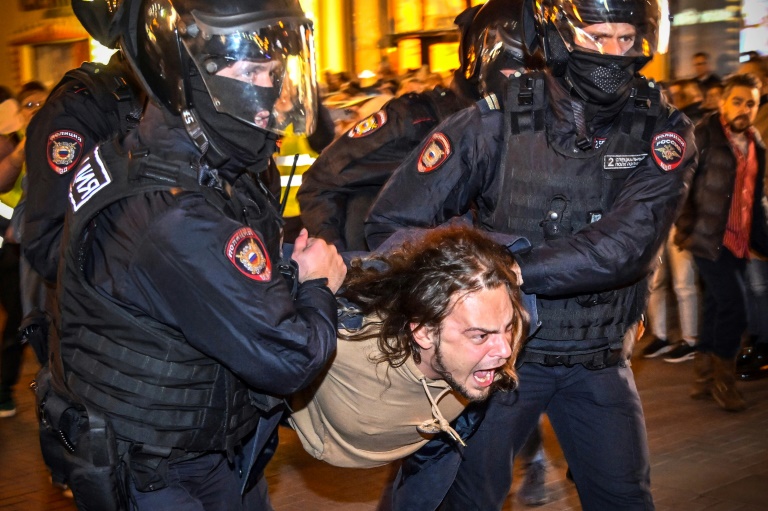 Related Articles


[ad_2]

Source link