[ad_1]

Indonesia's Mount Semeru has erupted again. A satellite has caught a glimpse of the explosion as well as the pyroclastic flow of mud and ash.
It has only been a year since the intense eruption at Mount Semeru, the tallest and most active volcano in Java, Indonesia. That eruption claimed the lives of 51 people and caused damage to more than 5,000 homes.
The volcano erupted once again on Sunday. Semeru sent 1,500-meter ash columns into the air, covering nearby villages in thick ash and blocking out the light of the Sun, according to AP News.
For its Image of the Day for Tuesday, Dec. 6, NASA Earth Observatory shared a rather intense photo taken by the Operational Land Imager 2 (OLI-2) instrument on the Landsat 9 satellite on Sunday.
In it, one can see a natural-color photo of the volcanic plume that was emanating from Semeru on Sunday morning, while a thick pyroclastic flow can also be seen flowing down the southeastern side of the mountain.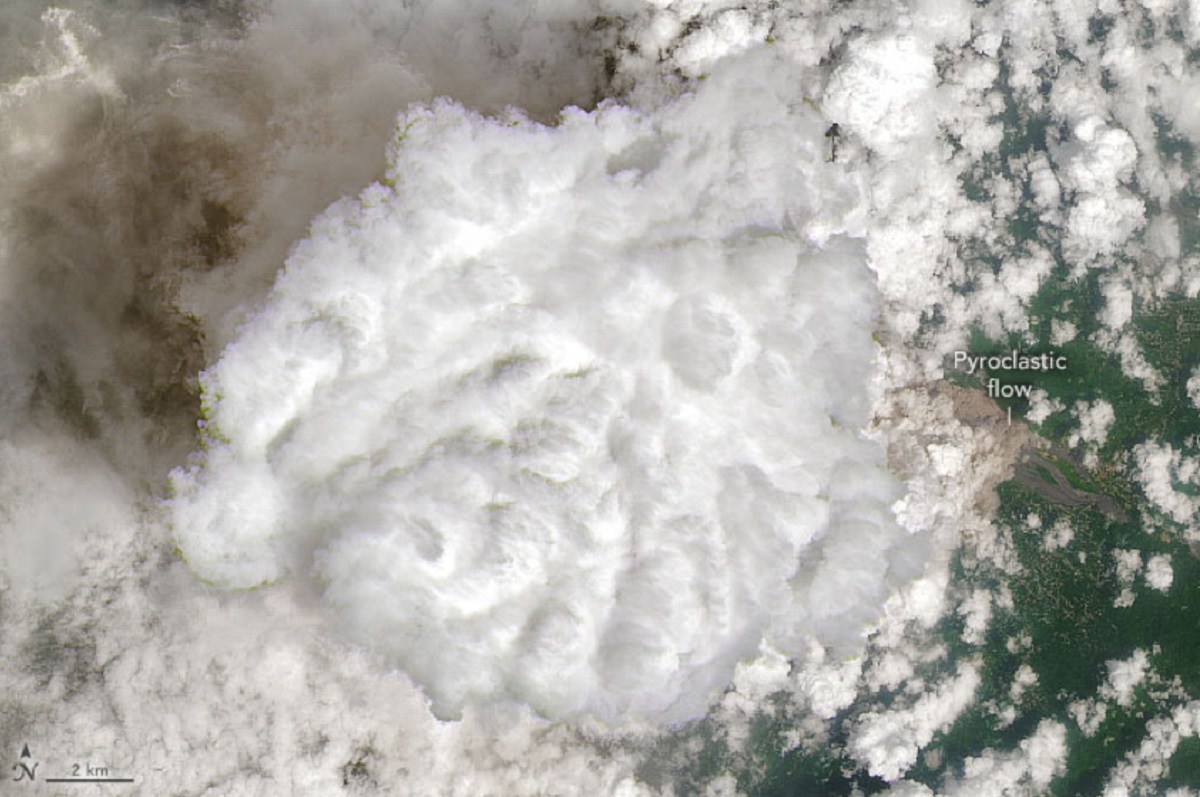 "These billowing avalanches of superheated ash, tephra, soil and other debris race at high speeds and can destroy most things in their path," NASA Earth Observatory noted.
As explained during the 2021 eruption, such pyroclastic flows are some of the "most dangerous hazards" that volcanoes can pose. These flows are so speedy that they can be "impossible to outrun."
In the case of the current eruption, the Indonesian National Board for Disaster Management (BNPM) noted several of these flows. And with the heavy rains, the pyroclastic flows turned into "muddy lahars" that ended up burying homes right up to the rooftops and destroying a bridge, NASA Earth Observatory noted.
Early reports from Indonesian authorities did not log deaths or injuries from the event but noted that thousands of people were once again evacuated from their homes, according to CNN.
Indonesian authorities, along with volunteers, have been active in search and rescue efforts. They have also distributed thousands of masks to the evacuees to prevent the potential impact of volcanic ash on their respiratory health.
Authorities have also urged people to be wary of "irresponsible news" related to the volcano. On Monday, for instance, authorities refuted the circulating claims that the Mount Semeru eruption caused a tsunami, explaining that it is a land volcano that's far enough from the sea.
Related Articles


[ad_2]

Source link