[ad_1]

Typhoon Noru struck the Philippines over the weekend, causing floods and damages after rapidly intensifying. A satellite image shows the typhoon ravaging over the archipelago.
NASA Earth Observatory shared the image of Typhoon Noru, locally known as Typhoon Karding, as its Image of the Day for Tuesday. The image, which was captured by the Visible Infrared Imaging Radiometer Suite (VIIRS) instrument on the Suomi NPP satellite, shows Typhoon Noru over the Philippines on Sept. 25, just hours after it made landfall.
According to the agency, the purple areas are the "cooler cloud structures," while the white clouds are "generally" the tallest. The yellow parts in the image, on the other hand, indicate the warm surfaces below.
On Sept. 24, Typhoon Noru had wind speeds of 50 miles (80 km) per hour, the agency said. But this had intensified to 155 miles (250 km) per hour the next day. By the time it made landfall, the typhoon was already "equivalent" to a category 4 storm.
As the agency explained, a wind increase of "at least 55 km (35 miles) per hour" within 24 hours is defined as a "rapid intensification." This means that the rate at which Typhoon Noru accelerated was, indeed, quite intense.
"Meteorologists have only recorded a handful of storms that have ever intensified so much so quickly," the agency said.
One can see the power of the typhoon, as well as the resulting floods in the video below.
The typhoon has led to agricultural damages worth millions and forced tens of thousands of people to evacuate their homes. Power interruptions and communications issues were also reported, while some 2,800 people ended up stranded in seaports.
Five rescuers were also reported to have died in the province of Bulacan after a wall beside them collapsed and sent them towards the rushing current of the floodwaters.
Typhoon Noru exited the Philippine Area of Responsibility as per the country's Department of Science and Technology's (DOST) Philippine Atmospheric, Geophysical and Astronomical Services Administration (PAGASA) bulletin Monday. However, rains and "occasional gusts nearing strong breeze" are still expected in certain parts of the country.
While Typhoon Noru slightly weakened when it passed over the mountains of Luzon, experts forecast that it would strengthen again as it makes its way over the South China Sea, according to NASA Earth Observatory. This live satellite view follows the storm as it heads toward Vietnam.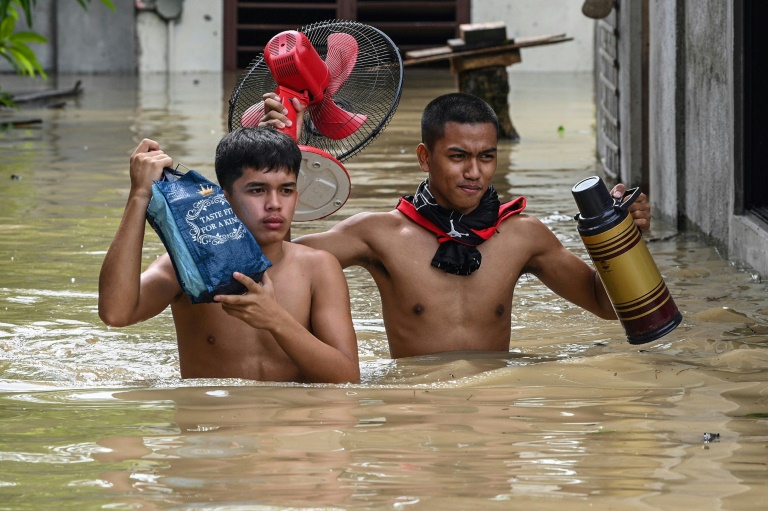 Related Articles


[ad_2]

Source link