[ad_1]

About 510 Russian casualties were recorded in Ukraine as the country observed a holiday celebrating its armed forces.
Russia has suffered 92,200 combat losses among its military personnel since it invaded Ukraine on Feb. 24, the General Staff of the Armed Forces of Ukraine stated in its most recent casualty report released Tuesday.
In its report from the previous day, the Ukrainian military said Russia had lost 91,690 military personnel.
The Russian government's last official death toll from the invasion of Ukraine, released in September, put the number of fatalities among Russian soldiers in the war at 5,937.
Up to 13,000 Ukrainian soldiers have died in the ongoing conflict, Mykhailo Podolyak, an adviser to Ukrainian President Volodymyr Zelensky, said last week.
Tuesday marked Armed Forces Day in Ukraine, which celebrates the efforts of the Ukrainian military.
"For 8 years and 286 days, the Armed Forces of Ukraine have been defending our beautiful state from the occupier, from Russian aggression. Thousands of Ukrainians gave their lives for the day to come when not a single occupier remains on our land and all our people are free again," Zelensky said in an address Tuesday.
"Today is the day of our gratitude. This is exactly the meaning of Dec. 6 – and it is forever. Now, this is the only way our people will celebrate the Day of the Armed Forces of Ukraine – with words of gratitude, feelings of gratitude [and] tears of gratitude."
Ukrainian Defense Minister Oleksii Reznikov took to Twitter Tuesday to mark the occasion.
"I congratulate our service members on Armed Forces Day! Hundreds of thousands of brave men and women are protecting our nation from genocide. It is an honor for me to work with you in this difficult hour of the largest war of the 21st century. A war we will win," he tweeted.
Zelensky reportedly spent Armed Forces Day visiting Donetsk and Kharkiv, two of Ukraine's eastern provinces that are currently partially occupied by Russian forces and pro-Russian separatists.
The Ukrainian head of state, who presented awards to fighters in both provinces, also revealed that 60 prisoners held in Russian captivity have been brought back home.
"And I want to say to everyone present what is definitely in the heart of every Ukrainian today: I thank you! I thank absolutely all soldiers, all sailors, all sergeants, sergeant-majors, all officers, all heroes, generals and, of course, all your fathers and mothers, our dear, esteemed Ukrainian warriors," Zelensky said.
The Verkhovna Rada, Ukraine's parliament, established Armed Forces Day in 1993, according to the Ukrainian outlet UNIAN.
It is reportedly usually marked by an official ceremony that sees flowers being laid down at the Tomb of the Unknown Soldier as well as a church service.
The Ukrainian army also holds official meetings, award ceremonies and festive concerts on Armed Forces Day.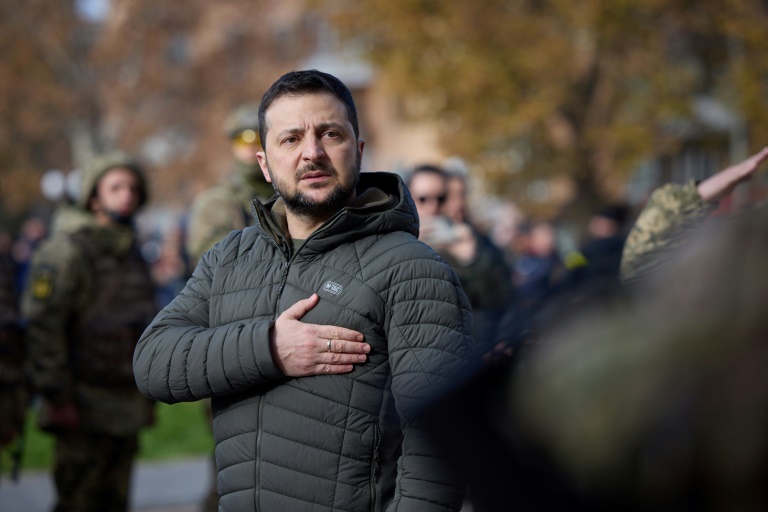 Related Articles


[ad_2]

Source link