[ad_1]

A resident of Ukraine's capital Kyiv is accused of planning to steal a war-inspired wall mural of popular anonymous street artist Banksy.
Ukrainian authorities said the suspect could face up to 12 years in prison after attempting to steal Banksy's artwork featuring a woman wearing a gown and gas mask while holding a fire extinguisher. Kyiv police wrote in a Facebook post that the piece was left on the exterior wall of a house in Gostomel, a city near the capital of Kyiv.
Ukraine's Office of the Prosecutor General said the suspect, whose name was not released, had asked other people to help him steal the artwork, telling them he had secured relevant permits to remove Banksy's artwork, Insider reported.
Kyiv investigators revealed Monday that a group of people tried to remove a portion of the wall bearing the mural and transport it using "wooden boards and polyethylene" on Dec. 2.
But authorities caught the suspect before he could transfer the mural into his car, the prosecutor's office said.
Ukrainian prosecutors said the suspect planned to sell the mural for his personal purposes.
Kyiv police estimated that Banksy's mural is worth around $243,900.
The prosecutor's office announced that state police in the Buchanks district launched a pre-trial investigation into the matter.
Oleksiy Kuleba, the governor of Kyiv, said last month that the mural is undamaged and is now under the custody of the police.
"These images are, after all, symbols of our struggle against the enemy," Kuleba told BBC. "These are stories about the support and solidarity of the entire civilized world with Ukraine."
The graffiti was among the seven artworks Bansky confirmed he created in different locations in Ukraine.
Among the anonymous street artist's artworks in Ukraine are murals of a man resembling Russian President Vladimir Putin being thrown to the floor in a judo match, two children playing seesaw using a metal tank trap, and a gymnast doing a handstand within the ruins of a bombed building.
Last month, Banksy announced that he is selling 50 art prints to help Ukrainians affected by the Russian military offensive.
Each of Banksy's cardboard art is worth roughly $6,137, and all of the proceeds would go to the Legacy of War Foundation, Deutsche Welle reported.
Banksy said he saw the foundation provide medical attention and basic needs to affected Ukrainians.
"In Ukraine, I saw a Legacy of War team sweep in and provide medical attention, heaters, fresh water and a friendly face to some very desperate people in a bombed-out building," Banksy wrote on the Legacy of War Foundation site.
Kyiv resident Alina Mazur, 31, called Banksy's artwork a "historic moment for our country," saying that famous personalities are presenting to the world the horrific scenes of the Russian invasion.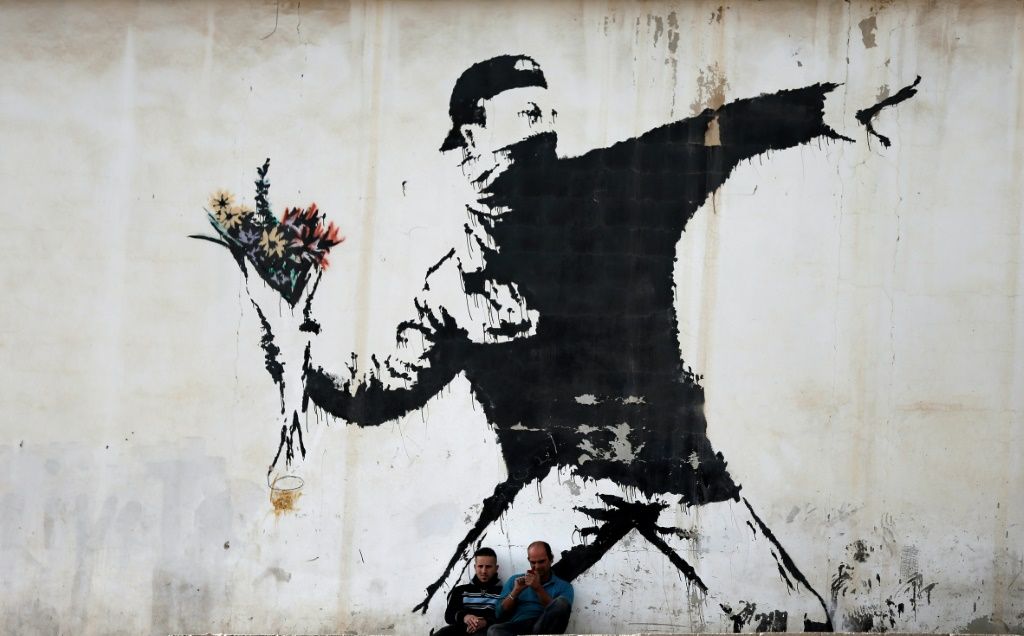 Related Articles


[ad_2]

Source link