[ad_1]

Several Ukrainian officials who collaborated with Russian forces during the occupation of areas in south Ukraine were involved in the kidnapping and detention of locals, Ukrainian authorities announced this week.
The head and a deputy of the Southern Interregional Directorate for Execution of Criminal Sentences, a Ukrainian agency tasked with ensuring that court sentences are served, collaborated with Russian occupiers in Ukraine's Kherson province, the Security Service of Ukraine (SSU) said in a statement released Monday.
One voluntarily agreed to take on the role of assistant chief for work with the public in the Russian-created "Department of the Service of Execution of Orders in the Kherson Region," while the other became a senior operation officer, according to the SSU.
The two, as well as a Ukrainian anti-drug trafficking operative who became a collaborator when Russia began its invasion of Ukraine in late February, received kidnapped locals in a detention center and illegally held the victims in cells under inhumane conditions, the intelligence service said.
Russian forces allegedly used the detention center to torture abducted Ukrainians.
The officials also suppressed resistance movements and conducted mass repressions, according to the SSU.
All three attempted to hide from Ukrainian authorities after Kherson's eponymous administrative center was liberated earlier this month, but they were identified by the SSU, located and detained.
The officials are now suspected of violating Article 111.2 of the Criminal Code of Ukraine, or high treason committed under martial law, a crime that is punishable by up to 15 years in prison or life imprisonment.
A pre-trial investigation is currently underway to establish all the circumstances surrounding the officials' alleged offenses.
Meanwhile, a court is still deciding their form of detention.
For the case, the SSU office in Kherson received help from Ukraine's State Bureau of Investigation, which was under the procedural supervision of the prosecutor's office in the province.
Russia's forces subjected civilians in Ukraine to summary executions, torture and other grave abuses over the course of its invasion, Human Rights Watch alleged.
Amnesty International also accused Russia of carrying out deliberate killings, unlawful violence and widespread intimidation against unarmed civilians in its western neighbor.
Killing, torturing and taking hostage of non-combatants in war violate the Geneva Conventions.
Russia has repeatedly dismissed allegations that its forces intentionally targeted civilians in Ukraine.
Prosecutorial groups are working in Kherson to document and investigate alleged Russian war crimes, according to Ukrainian Prosecutor General Andriy Kostin.
"Every Russian war crime, every terrorist attack of theirs will receive its legal response," Ukrainian President Volodymyr Zelensky said during a televised address.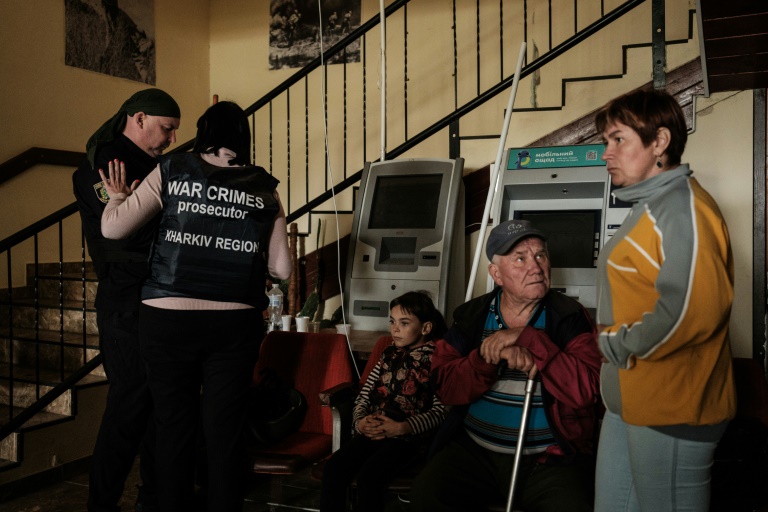 Related Articles


[ad_2]

Source link