[ad_1]

Up to 174 people were killed and 180 injured after a professional soccer league match in Indonesia ended in a riot and a stampede, according to reports.
Supporters of Arema F.C. and rival Persebaya Surabaya, two of Indonesia's biggest soccer teams, clashed in the stands of Kanjuruhan Stadium in East Java province's Malang city after home team Arema F.C. was defeated 3-2 at a match Saturday, CNN reported, citing local police.
Supporters from the losing team then "invaded" the pitch, East Java Police Chief Nico Afinta said during a press conference following the event.
Riot police fired tear gas in an attempt to disperse them, which led to panic among the supporters.
The crush occurred when hundreds of fans fled for an exit gate, according to the police chief. Some suffocated in the chaos and others were trampled, killing 34 almost instantly, according to CBS News.
Two police officers were also among the dead, the police chief said.
Video footage shared on social media showed what appeared to be clouds of tear gas inside the pitch and individuals rushing to the exits.
More than 300 were rushed to nearby hospitals for treatment of their injuries. But Afinta said many of them died on the way to the hospitals and during treatment.
East Java Deputy Governor Emil Dardak and the local disaster agency initially said that the death toll had reached 174 as of Sunday afternoon, Reuters reported.
But Dardak later said that figure may have included duplicate fatalities. The local health agency put the toll at 130.
But while the exact number of individuals who died in the incident is currently unclear, the stadium disaster appeared to be the world's worst in more than half a century, according to Reuters.
In the aftermath of the horrific event, Indonesia's sports minister Zainudin Amali said an investigation has been launched into the matter.
The Kanjuruhan Stadium's full capacity is estimated at 38,000 spectators, but 42,000 tickets were issued for Saturday's game, according to Indonesian officials.
Indonesian Chief Security Minister Mahfud MD said in a post shared on his official social media accounts that the "supporters in the field were Arema F.C.'s."
As a result of the deadly incident, the Indonesian Football Association (PSSI) has suspended matches set for next week. They have also banned Arema F.C. from hosting games for the rest of the season.
"We are sorry and apologize to the families of the victims and all parties for the incident," association chairman Mochamad Iriawan stated Sunday, according to CNN. "For that PSSI immediately formed an investigation team and immediately left for Malang."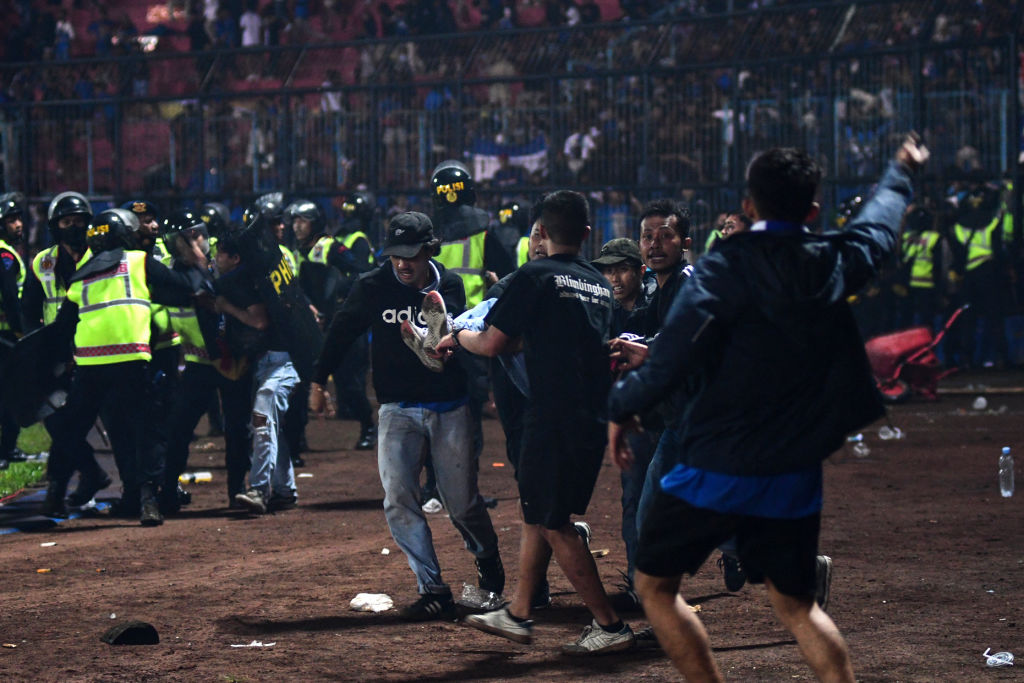 5 minute read
October 2, 2022
6:07 PM GMT+8
Last Updated 9 min ago
Indonesia authorities say 174 dead after soccer melee, stampede
East Java stadium disaster apparently worst since 1964
Around 180 injured during crowd stampede
Indonesia football association suspends league to investigate
Police say they fired tear gas to control crowd
MALANG, Indonesia, Oct 2 (Reuters) – Up to 174 people were killed and 180 injured in a stampede at a soccer stadium after police sought to quell violence on the pitch, officials said on Sunday, in one of the world's worst stadium disasters.
Officers fired tear gas in an attempt to disperse agitated supporters of the losing home side who had invaded the pitch after the final whistle in Malang, East Java, on Saturday night, the region's police chief Nico Afinta told reporters.
"It had gotten anarchic. They started attacking officers, they damaged cars," Nico said
Related Articles


[ad_2]

Source link