[ad_1]

Amid tensions with Beijing over Taiwan and a growing China-Russia nexus in the Pacific, Washington's offer of big dollar assistance seems to have helped the U.S. avert a major diplomatic embarrassment in its first-of-a-kind initiative to engage with Pacific Island nations and thwart Chinese plans for the region, at least for now.
The Biden administration will announce investments of more than $810 million in expanded programs to aid the Pacific islands, on top of more than $1.5 billion provided in the past decade, a Washington Post report quoting U.S. officials said.
Solomon Islands, which has struck a security pact with China, had earlier indicated that it wouldn't sign the declaration between the U.S. and Pacific Island nations — a move that would in effect have helped Beijing torpedo the initiative even before it started.
However, on Wednesday, all the visiting leaders from the Pacific Island nations, including Solomon Islands Prime Minister Manasseh Sogavare, endorsed an 11-point statement of vision committing to the joint endeavors.
The State Department had pitched the U.S.-Pacific Island Country Summit held earlier this week as a demonstration of Washington's "deep and enduring partnership with Pacific Island countries."
Brian Harding, a senior Southeast Asia expert at the Washington-based United States Institute of Peace (USIP), told International Business Times that China's ambitions in the Pacific have clearly expanded in the last 5-10 years as it sees a diplomatic opportunity to "score both substantial and symbolic gains with limited investment due to the size of the region's populations and economies."
Following its security pact with the Solomon Islands, which set alarm bells ringing in Australia, New Zealand and the West, Beijing attempted but failed to achieve consensus among 10 Pacific Island nations to endorse a sweeping deal that would have radically increased Chinese involvement in regional politics, security and the economy of the region, enabling it to gain greater access to natural resources on land and in the water.
Although "Beijing seems to have found a willing partner in Solomon Islands Prime Minister Sogavare," Harding pointed out that there is "widespread discomfort in the region over what is seen as the militarization of the Pacific Islands region, which the secret security pact between Beijing and Honiara has highlighted."
In August, the Solomon Islands government placed a moratorium on navy vessels entering its ports, but lifted the ban next month. A U.S. Coast Guard cutter had to turn away from Honiara during the period.
Another diplomatic priority for Beijing in the Pacific is to reduce Taiwan's international footprint "given that the region has long held a significant portion of Taipei's remaining diplomatic allies," he added.
Of the few countries that still maintain full diplomatic relations with Taiwan, four — the Marshall Islands, Nauru, Palau, and Tuvalu — are in the region.
Harding said via email that Pacific Island leaders "welcome the newfound attention from the U.S. – and from China" but pointed out that countries in the region "want to channel this heightened interest toward their top priority issues, most importantly climate resilience and economic development."
The islands face an existential threat from rising sea levels, and frequent storms and droughts, caused by climate change.
"Pacific Island leaders want commitment from Washington, and commitment with consistency," he said.
Leaders in the region, he said, know the U.S. is concerned about China's growing influence, but countries there would prefer "Washington to engage with them for their own sakes, not only to counter China."
For Washington, the summit was an opportunity to remedy its lack of strategic approach toward Pacific Island nations. The U.S said that it will focus on key issues such as climate change, pandemic response, economic recovery, maritime security, environmental protection, and advancing a free and open Indo-Pacific.
Chinese government mouthpiece Global Times, meanwhile, termed the Washington summit as a false charm offensive with "sugar coated" buzzwords that ignored "respect and equality."
Vice President Kamala Harris, while addressing the Pacific Islands Forum, a key regional grouping, said in July the U.S. was embarking on a "new chapter" of cooperation with the region, opening new embassies and ramping up funding and development support.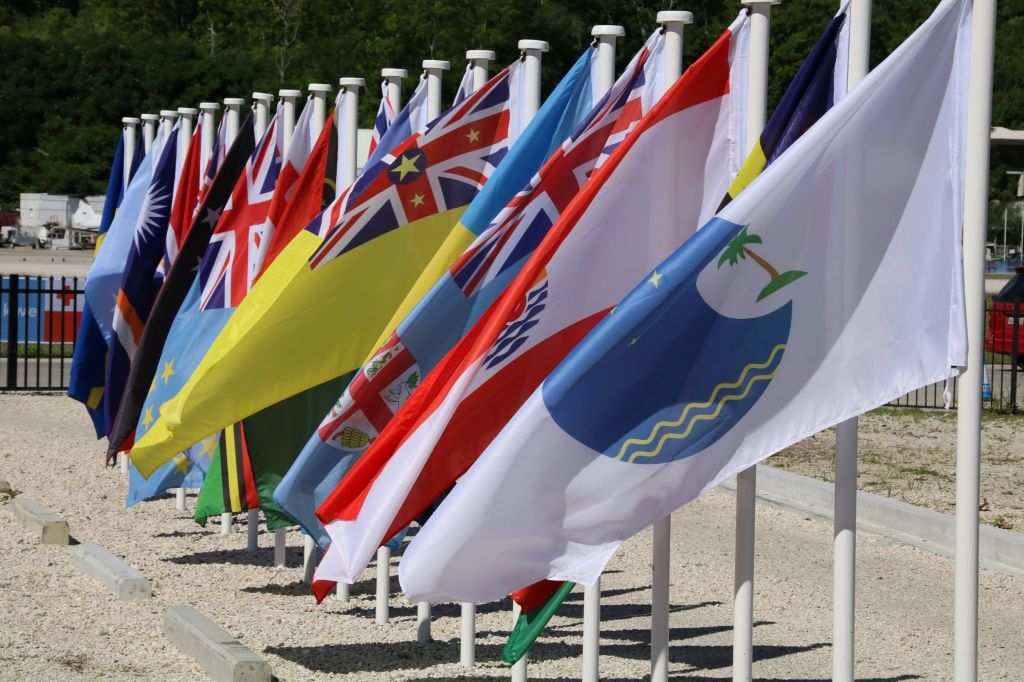 [ad_2]

Source link