[ad_1]

An adviser to Ukrainian President Volodymyr Zelensky has revealed that ongoing clashes between Russian and Ukrainian forces in Soledar and Bakhmut in eastern Ukraine are the "bloodiest" of the war so far.
Mykhaylo Podolyak told AFP Wednesday that there was a lot of close contact fighting between Russian and Ukrainian troops in the salt-mining town of Soledar, which he described as the "hottest spot in the war."
"There's a lot of blood, a lot of artillery dueling, a lot of close contact fighting, especially today in Soledar," Podolyak said, Kyiv Post reported.
The Ukrainian presidential adviser admitted that while Russia is suffering "enormous" losses, Ukraine is also seeing "significant" casualties among its troops in the fight for the control of Soledar.
Podolyak noted that few civilians remain near the beleaguered Ukrainian town and city and that most of the reported deaths were soldiers.
"If in Mariupol 90% of deaths were civilians, in Soledar and Bakhmut it's soldiers," he said, citing the siege of Mariupol in the first months of the war that led to thousands of civilian deaths.
Podolyak claimed that Russia had lost "10,000 to 15,000 men, maybe more" in Bakhmut, though he did not provide how many Ukrainian soldiers had been killed or injured since the fighting began in February 2022.
The adviser said their troops aim to advance to Donetsk, the main city and pro-Russian separatist stronghold in the eponymous Donetsk region of eastern Ukraine.
But Podolyak argued that Russia has "no strategic goal" in the fighting in Soledar and Bakhmut, noting that the country has deployed its best army units and the Wagner mercenary group on the battlefield.
Zelensky's adviser said Ukraine's positions "are more advantageous," as the war nears its first year anniversary in February.
Podolyak's remark came as both countries claimed the upper hand in the fight for the control of Soledar and Bakhmut.
Yevgeny Prigozhin, the head of the controversial Wagner group, claimed Wednesday that his armed men seized control of Soledar, but he admitted that urban battles continue in the town.
In his daily address Tuesday, Zelensky said they are facing a "difficult situation" in Soledar, but he praised the "bravery" of Ukrainian forces defending the beleaguered town.
But the U.K. Ministry of Defense believes that Russia is probably in control of most of the town.
The British defense ministry said that Russian forces are "highly likely" to envelop Bakhmut from its position in Soledar and disrupt Ukraine's lines of communication, Reuters reported.
In the latest tally provided by the General Staff of the Ukrainian Armed Forces, more than 112,900 Russian soldiers have been killed since Russian President Vladimir Putin launched a "special military operation" in Ukraine almost a year ago.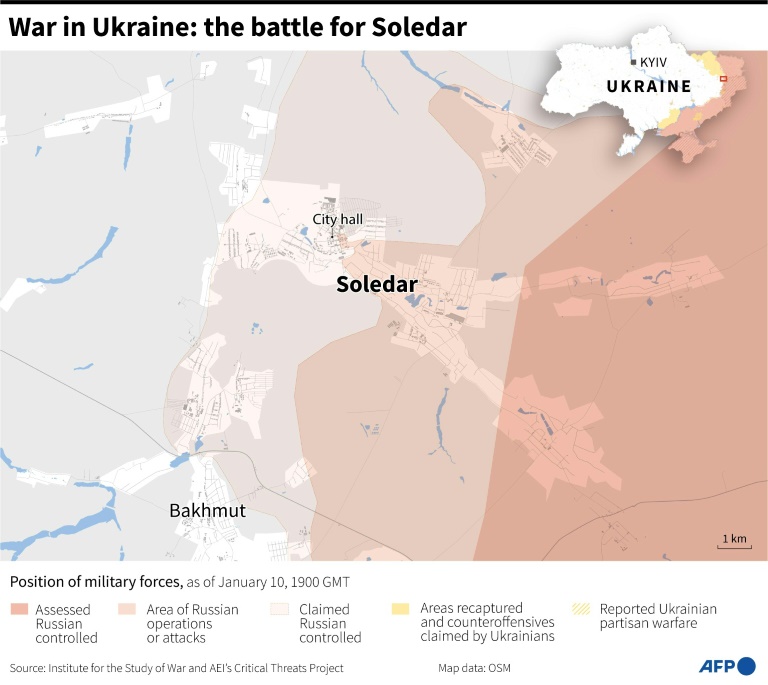 Related Articles


[ad_2]

Source link