[ad_1]

A Russian woman had allegedly told her fiancé, currently deployed in Ukraine, to bring home a trophy from the war, such as a severed human head, a recording of an intercepted phone call showed.
The Russian woman, whose identity was not revealed, also told her fiancé to bring home military jackets worn by Ukrainian soldiers in the war, as revealed in the recording released by the Security Service of Ukraine (SSU) on Sunday.
"You'll bring me lots of military tunics, someone's head. I showed Lizka how Wagner guys cut off a man's head," the woman said, referring to Russia's infamous Wagner mercenary group led by Yevgenii Prigozhin.
In addition to bringing home a severed head as a trophy, the woman was also recorded warning her fiancé that he could not come home without a "khokhol's tunic" to use in role-playing games with her husband-to-be, who she called by the name Ilyusha. Khokhol, which means a tuft of cereal stalks, is a derogatory term that Russians use to describe Ukrainians.
The SSU did not specify when or where the phone call was intercepted. It is also unclear where the soldier is currently deployed in Ukraine.
The recording comes just days after Ukrainian officials uncovered a mass burial site in the city of Izium in Kharkiv Oblast. The mass grave had at least 440 bodies, many of which were corpses of women and two children. At least 52 bodies were exhumed Tuesday.
Yevhen Yenin, deputy minister of Internal Affairs of Ukraine, said the corpses all bore signs of torture. Some bodies had broken ribs and skulls, while others had their genitals cut off. Other corpses exhumed from the makeshift site also had their hands tied.
Since the beginning of the war in February, at least 5,916 Ukrainian civilians have been killed, including 5,537 adults and 379 children. More than half of the deaths were recorded in the Donetsk and Luhansk regions, per a Sept. 19 report from the Office of the UN High Commissioner for Human Rights (OHCHR).
It is unclear how many Ukrainian soldiers have died in combat since the start of the war. However, Gen. Valeriy Zaluzhnyi, head of Ukraine's armed forces, put Kyiv's military death toll at nearly 9,000 as of Aug. 22.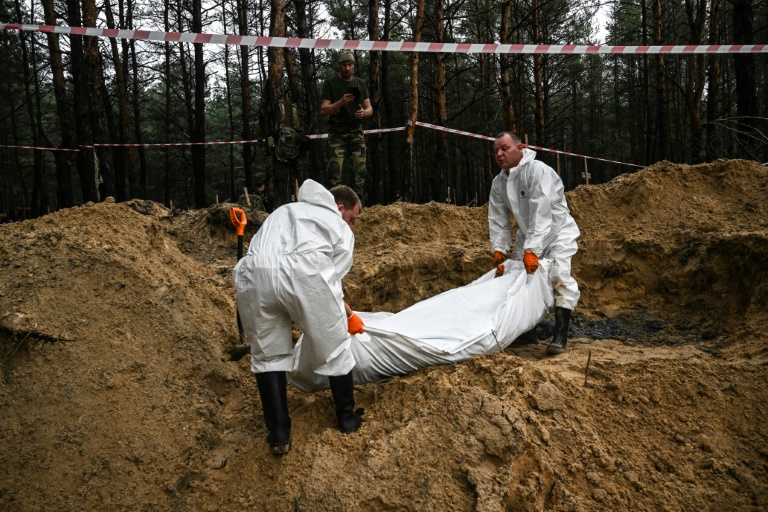 Related Articles


[ad_2]

Source link