[ad_1]

Ukrainian President Volodymyr Zelensky was involved in a road accident Wednesday as a vehicle collided with his car in Kyiv.
The accident occurred when Zelensky was traveling with his motorcade in Kyiv. The Ukrainian president did not sustain any serious injuries in the incident, according to his press secretary Sergei Nikiforov.
"A car collided with a car of the President of Ukraine and escort cars in Kyiv… The president was examined by a doctor, no serious damage was detected," Nikiforov wrote in a Facebook post.
The press secretary also added that medics who were accompanying Zelensky at the time gave emergency aid to the driver of the private vehicle involved in the incident and later helped transfer him to an ambulance. Nikiforov did not share any further details about the condition of the unnamed driver. Authorities are now investigating all circumstances that led to the accident.
Earlier on Wednesday, Zelensky, 44, visited the newly-liberated town of Izium in the northeastern region of Kharkiv Oblast. The town was recaptured by the Ukrainian forces five days prior to the president's visit.
Zelensky oversaw the flag-raising ceremony and vowed that Ukrainian flags would return to every city and village across the country.
"Earlier, when we looked up, we always looked for the blue sky. Today, when we look up, we are looking for only one thing — the flag of Ukraine," Zelensky said in a post on the presidential Telegram channel. "Our blue-yellow flag is already flying in the de-occupied Izium. And it will be so in every Ukrainian city and village. We are moving in only one direction — forward and towards victory."
He also thanked troops who took part in the counteroffensive against the Russian forces, which made it possible for Ukraine to reclaim the city.
"I want to thank you for saving our people, our hearts, children and future," Zelensky was quoted as saying by CNN. "It has been extremely difficult for you in recent months. Therefore, I ask you to take care of yourselves, because you are the most valuable asset we have."
The flag-raising ceremony also stopped for a minute of silence to remember the Ukrainian soldiers killed in the ongoing war.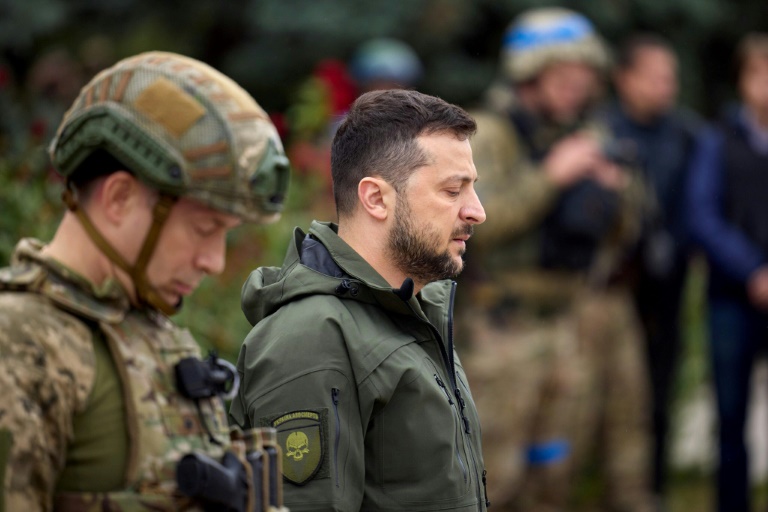 Related Articles


[ad_2]

Source link